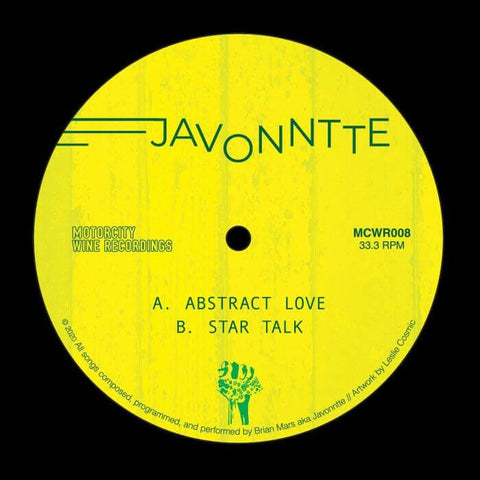 RELEASE
Javonntte - 'Abstract Love' Vinyl (PRE-ORDER)
LABEL:
MotorCity Wine
PRE-ORDER ITEM
Expected in stock between 19th - 5th March
PLEASE ORDER PRE-ORDER ITEMS SEPARATELY FROM IN STOCK ITEMS IF YOU WOULD LIKE TO AVOID DELAYS TO YOUR ORDER/S 
One of Detroit's greatest musical polymaths, Javonntte's releases have graced NDATL, Eglo, Sistrum, Visions, Lumberjacks In Hell, and many more. On the A-side "Abstract Love" leans on Javonntte's jazz-stylings, giving us a shuffling peak hour track with a brilliantly executed vocal chop. On the flip, "Star Talk" unsurprisingly takes us to the outer limits of the cosmos, for those eyes-closed-lovedancing moments.
Add to cart