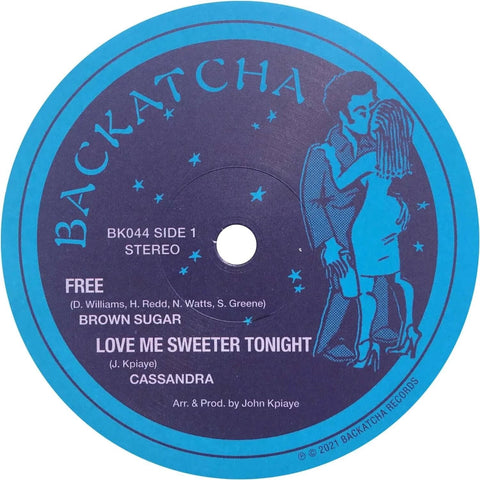 RELEASE
John Kpiaye - Brown Sugar / Jean Barrett
LABEL:
Backatcha Records
Reissued on 12" single for the first time, three sought-after John Kpiaye productions recorded between 1978-1982; Brown Sugar's cover of Deniece Williams 'Free', Jean Barrett's cover of Isley Brothers 'For The Love Of You', and the 1982 remake of 'Love Me Sweeter Tonight' by Cassandra, an original Kpiaye composition.
"A lot of musicians that were coming over from Jamaica around the late 70s who'd be recording in England, they'd say 'give us that sound, that kind of lovers sound you got there'" (John Kpiaye).
Alongside Dennis Bovell, Kpiaye was also the in-house musician at Dennis Harris's Eve Studio in Lewisham. A well-documented part of the lovers rock story, the 8-track studio was the engine room for Harris's various label ventures since the mid-70s, namely his newly formed Lovers Rock label in 1977. The same year, Kpiaye graced the company with multiple hits from local singing talent, Cassandra and Brown Sugar - with three of his original songs swiftly becoming anthems - 'I'm In Love With A Dreadlocks', 'Black Pride', 'I'll Never Let You Go Out Of My Life' - "People would go in the record shop and say 'is there anything new on the Lovers Rock label?' And the guy would say 'yes, and we also got a couple of other tunes in the lovers rock style' and from that, people began to refer to all this kinda genre as lovers rock" (John Kpiaye).
Kpiaye's output for the label was always credited to his alias Brownie "T" - "That was because no one could spell my name correctly so we used that instead".
Born in Stepney, East London, to an English mother and Nigerian father, Kpiaye started playing the guitar in his mid-teens. Self-taught, he was into ska, rocksteady and soul, and was influenced by guitarists Steve Cropper, Freddie King, Grant Green and Earnest Ranglin. In 1968, he cut his first record with his band The Cats, releasing a rocksteady/reggae rendition of Tchaikovsky's 'Swan Lake' on their own label. It quickly became a crossover hit reaching the Top 50. "All the mods and skinheads went out and bought it" explains Kpiaye, who'd already earned his reputation as the leading reggae guitarist on the British scene long before his works for Dennis Harris.
On 'I'm In Love With A Dreadlocks': "One day he (Harris) came to me and said 'I've got some singers and I need some songs, do you have anything?' I said, 'of course', and I forgot about it. Then a week later, Dennis says 'we're running the session tomorrow, can you bring the song down for these girls?' I said 'yeah sure' (laughing). So I had to write something that night and he had this tune on the DIP label called 'Curly Locks' by Junior Byles. I said I'm gonna write a reply to that and that's what I did. We went down there the next day and rehearsed it with the girls and cut it. On vocals, we had Caron Wheeler, Carol Simms who became Kofi, and Pauline Caitlin who sang lead ... these were all young girls. They didn't write at the time, the lovers rock thing was very much a female thing when it started and none of them really wrote until later on. I had to write loads of stuff." As well as writing the song, Kpiaye also played most of the instruments: "Learoy Green played the drums and I played the bass, keys and guitar overdubs". Notably, a young Green was one of the in-house drummers at Eve who also went on to record the much-coveted street soul white label 'Love Is The Key' over a decade later.
1977 was also the year Deniece Williams 'Free' became No.1 in the UK Charts - a major soul hit suitably covered by Brown Sugar with Caron Wheeler on lead and released the following year.
"What we were trying to do was add more melodic content - put the rhythm track down and then add keyboard lines, guitar riffs, little solos here and there... a lot of vocal harmonies, and that had the effect of softening the music" (John Kpiaye).
Eve Studio was equipped with 'The Cadey', a one-inch 8-track valve-driven recorder designed and built by Steve Wadey (co-writer of pop song 'Black Is Black'). Whilst one historian describes the unit as "a remarkably crudely built machine with a bird's nest of wires and electronics", it was known amongst engineers to enable a warm powerful sound without distortion, lending itself to the requirements of the 'reggae sound'. "Only 7-tracks ever worked but we made good out of that. It was a basic set-up but had a nice sound" says Kpiaye - "It wasn't until later on when we started recording in state-of-the-art studios that we got a more modern feel".
Kpiaye would record in the daytime. At night, Bovell would come in and mix the tracks: "John was there during the day and when he'd leave, I'd take over as the night engineer until John came back the next day so the studio was red hot! We did it 24/7 there," explains Bovell.
The Lovers Rock label was a short-lived affair with a resounding legacy. "They had a flood in the basement and they closed the studio after that," says Kpiaye. Things moved on fast - Bovell had acquired a 24-track mixing desk and opened Studio 80 producing and engineering for major label projects like Linton Kwesi Johnson, Thompson Twins, Fela Kuti, Ryuichi Sakamoto, and Aswad. Kpiaye was often brought in for his guitar work and since 1982, he has been the resident guitarist in the Dennis Bovell Dub Band, touring the world with Linton Kwesi Johnson. Studio 80 was also the setting for many independent artists and is where Kpiaye produced and recorded the 1982 remake of 'Love Me Sweeter Tonight' by Cassandra. He's never stopped being an in-demand session guitarist and continued to be a key player on numerous classics. "Motion was one of my favourite projects to work on. To me, it was a fusion album. It was brilliant". Produced and arranged by the late George Oban, founding member and bass man for Aswad, Motion was Oban's vision for a collective of musician friends to create an album without any constraints - a clear canvas to express the music.
Jean Barrett's 'For The Love Of You' was recorded and released in the late 70s on Kpiaye's Vital Records. "I only ever recorded that one song with Jean. She was a really good singer and I'd have liked to have recorded more with her". A standout cut amongst the many reggae versions that covered the Isley Brothers classic, it features Kpiaye on guitar throughout, unleashing a solo that bridges the dub half. This is the full 7-minute version featured here for the first time.
For more history on John Kpiaye, check out the Linton Kwesi Johnson site.
Add to cart