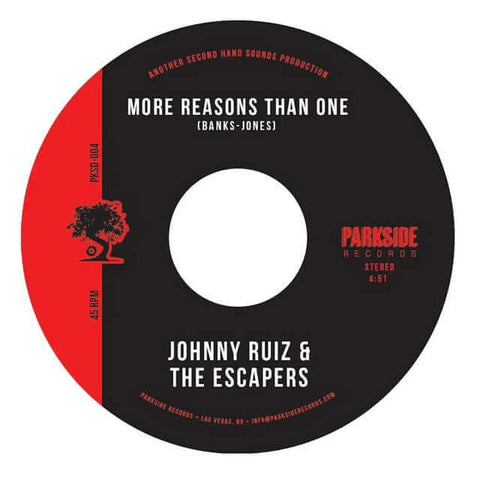 RELEASE
Johnny Ruiz and The Escapers - More Reasons Than One
LABEL:
Parkside Records
PRE-ORDER ITEM
Expected in stock between 31st March - 14th April
PLEASE ORDER PRE-ORDER ITEMS SEPARATELY FROM IN STOCK ITEMS IF YOU WOULD LIKE TO AVOID DELAYS TO YOUR ORDER/S
Fans of the Escapers know the love of Rock Steady and Reggae Music. This time they pay homage to a Johnny Taylor sung Stax classic and transform it into a Lover's Rock thriller. A bass heavy Roots rhythm combined with Colton's haunting lead guitar create a perfect platform. Johnny Ruiz to express his love. Hey baby "Ain't That Lovin You"? Definitely, and for "More Reasons Than One"
More of a double A-Side release, the b-side has The Escapers calling on The Heavyweight Dub Champion himself...the mighty Scientist to reinterpret their biggest single "Stay"! Overton "Scientist" Brown gives this tune a classic style "version" with all the echo and distortion any reggae fan would want. A real privilege to work with one of the true legends of dub music!
Add to cart