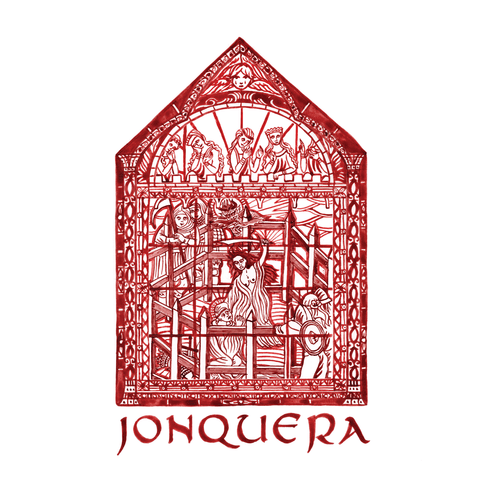 RELEASE
Jonquera - Darkos LP
LABEL:
Bamboo Show
After two compilation tapes released on Dec. 2019 & July 2020, Bamboo Shows label is working on its next release, due for Dec. 2020. New format to celebrate the label's first anniversary, with a solo LP on Vinyl.
With "Darkos LP", Lyon-talent Jonquera (also known as The Pilotwings, his collaborative project alongside Eiger Drums Propaganda & Lastrack) offers us an incredible 45-minute 14-track album thanks to its captivating atmosphere and an impeccable technique. Produced in one week only, the project between medieval dark-ambient, HD sound-design and esoteric illbient takes inspiration from Noise Music and Doom to introduce alternately a gloomy, epic or spiritual atmosphere.
A surprising album narrating a feudal struggle between a heretic woman and a priest in the small town of Charlieu, France. A metaphoric way to highlight the duality of the project, always oscillating between medieval darkness and contemporary techniques of electronic music production. An occult thematic that we also find in the album artworks, painted by Toulouse-based Artist Alison Flora with her own blood.
Through this third release, Erevan DJ's keeps striving for Lyon-scene promotion and development. An objective started back in 2018 with the creation of Bamboo Shows project (label, podcast series, events). He also recently joined LYL Radio's management in July 2020, where he's about to inaugurate the second season of his "Herbe À Chat" bimestrial residency. "Darkos LP" is another contribution to promote the bamboo spirit: 90s reminiscences, psychedelic atmospheres and tribal breaks. An extension of the two "Bamboo Shows Tapes" compilations, featuring renowned international artists such as RAMZi, Niklas Wandt, Spencer Clark, Vector Trancer, Komodo Kolektif or Bear Bones, Lay Low, but also local producers like Christian Coiffure, Eiger Drums Propaganda, Vague Imaginaires, HLM38, Jacques Satre or Lastrack.
Transparent Red Marbled Vinyl, 12", LP
Add to cart