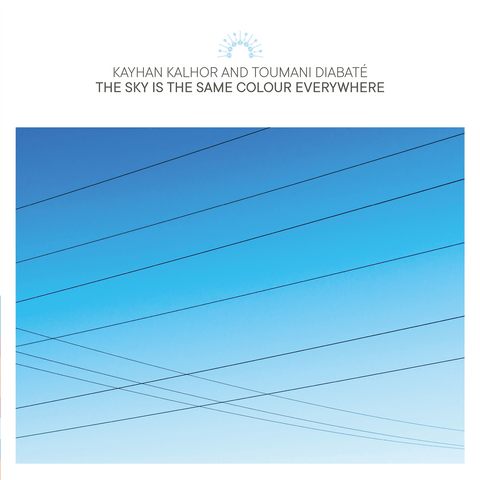 RELEASE
Kayhan Kalhor and Toumani Diabate - The Sky Is the Same Colour Everywhere
LABEL:
Real World
PRE-ORDER ITEM
Expected in stock between 5th - 19th May
PLEASE ORDER PRE-ORDER ITEMS SEPARATELY FROM IN STOCK ITEMS IF YOU WOULD LIKE TO AVOID DELAYS TO YOUR ORDER/S
The Sky Is the Same Colour Everywhere is a spiritual meditation - best listened to in one sitting - by two master musicians and culture bearers of centuries-old musical traditions sharing modes based on Persian and Malian repertoires on kamancheh (spike fiddle) and kora (harp/lute).

Kayhan Kalhor and Toumani Diabaté are both well-known soloists in their own right, but this duo recording is something special taking us on an improvisational musical journey into new landscapes. "It's like this music was already there waiting for us," says Toumani. "And it's like the two of us knew each other before - in another life."

Kayhan Kalhor, from Iran, is the leading player of the kamancheh, the Persian spike fiddle. Played kneeling down, Kayhan says it's "like riding a wild horse". It has four strings played with a short bow. He's collaborated with Yo-Yo Ma's Silk Road Ensemble, Kronos Quartet, Shujaat Khan, Erdal Erzincan, the Rembrandt Trio and many others. Toumani Diabaté, from Mali, is likewise the leading player of the West African kora, a 21-string harp-lute and a sublime creation of gourd, cow skin and fishing line. He's won three Grammys and recorded with Ballaké Sissoko, Taj Mahal, Ali Farka Touré, Björk and the London Symphony Orchestra. This is Kayhan's first collaboration with an African musician. "The qualities of minimalism and trance that I like in Persian music are also there in Toumani's," says Kayhan. "That's how I like to think and tell a story. That quality in African music has always attracted me and I think Toumani does that really well."

The idea for the duo came from Michael Dreyer, director of the Morgenland Festival in Osnabrück, Germany where Kayhan had frequently played in several other collaborations. The preparation was minimal, not even a discussion about scales or structure, but just a sound check in which they "checked certain things" and then simply played about 90 minutes of music.

That performance was in September 2016 and they followed it with a short European tour to a few other venues, although Kayhan says the shape of the piece didn't really change. They recorded it in Paris after the final concert in Brussels. 
Add to cart