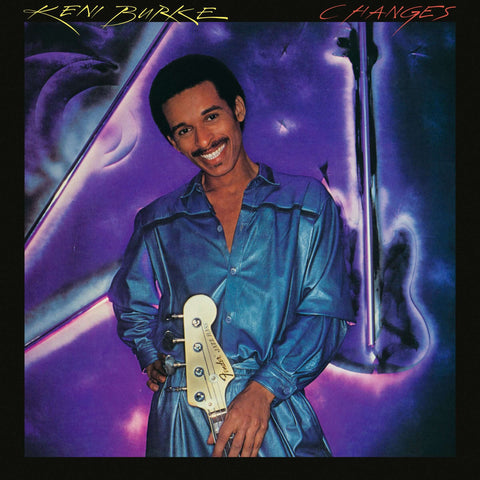 RELEASE
Keni Burke - Changes
LABEL:
Be With Records
Keni Burke's seminal Changes yielded the eternal club classic "Risin' To The Top". You need this record for this iconic steppers anthem alone. However, it's crucial to acknowledge that the whole of Changes, first released in 1982 on RCA but now a tricky one to find, is something truly special. It's a masterpiece of sophisticated 80s groove, containing first class funky soul that sounds as fresh as ever. This is multi-tempo soul music conceived in heaven.

Ace bass player, songwriter, arranger and producer, Keni Burke was discovered by Curtis Mayfield and a childhood member of the Five Stairsteps. Emanating from that magical 81-83 era and pristinely recorded at Philadelphia's legendary Sigma Sound Studios, his third solo album Changes really perfected Keni's groove. It incorporated tight, snappy rhythm arrangements which, despite the era, featured *real drums* courtesy of Steve Ferrone (from Average White Band) to compliment Keni's meaty bass lines. With Dean "Sir" Gant on synths and keyboards and Ed Walsh handling the Vocoder-OBX and Prophet 5, wonderful lines from Earth, Wind & Fire's legendary horn section and hooky rhythm and lead guitar riffs courtesy of Ed "Tree" Walsh, Keni was truly spoiled for excellence. With Doc Gibbs on percussion and Vince Montana on vibes elevating the sensational writing and arrangements, Keni couldn't really go wrong.

"Risin' To The Top" is undoubtedly the defining crown and lasting legacy of this album. Wth its instantly captivating bassline, slowly creepin' groove and uplifting lyrics, it was a favourite among both the 80s soul steppers and hip-hop crowd and remains canonical to this day. Written by Burke, Allan Felder, and former Chic member Norma Jean Wright, it incredibly failed to garner much American radio play or really trouble the soul charts. Whilst it was an instant classic in the U.K., in the States it took the hip-hop generation and later R&B and hip-hop samples of the tune to finally make it popular, many years later. Of note, Big Daddy Kane sampled it for "Smooth Operator", LL Cool J for "Around The Way Girl", Pete Rock & CL Smooth for "Take You There" and O.C. with "Born 2 Live".

But the highlights are not restricted to this one behemoth. For example, the track which precedes "Risin'" on Side B is another steppers favourite. "One Minute More" is a perfect mid-tempo ballad and the epitome of deep modern soul. A truly timeless work of genius. We, for one, struggle to think of a better song segue than the moment you're still reeling from the intense beauty of "One Minute More" and "Risin'" elegantly stirs into action. Frisson in excelsis. The propulsive, bass-heavy opener "Shakin" is an indisputable cracker and its followed by the timeless mid-tempo class of "Hang Tight". Just gorgeous. Next up, "Can't Get Enough" is another emotional, horn heavy chugger. The side closes with the sparse, tender, floating sl-o-o-w jam "Who Do You Love"; a truly divine ballad. The B-side beings with the title-track, "Changes", a squelchy, melodic boogie banger with fantastic keys, incredible vocals, ace shuffling percussion and spacey synths. It's followed by the ultimate one-two in "One Minute More" and "Risin'" before this sensational set closes with the glorious easy glide "All Night".

An absolutely essential record for fans of deeply soulful modern-funk, Changes was mastered for vinyl by Simon Francis and cut by Cicely Balston for Alchemy at AIR Studios. The artwork was restored at Be With HQ over many painstaking months so, hopefully, this fresh new edition ensures this long-lusted after album is no longer so awkward to find.
Add to cart