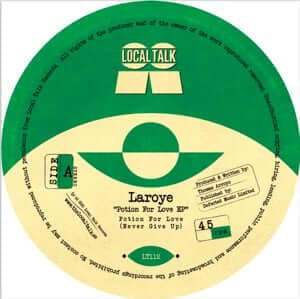 RELEASE
Laroye - Potion For Love
LABEL:
Local Talk
The debut release on Local Talk from French multi-instrumentalist Laroye goes down two separate paths. The main attraction 'Potion For Love' is a deep Detroit(ish) jam that's got both a raw edge and a musical and jazzy feel, a good combo! With a slight boogie bump, soulful vocals and that basement feel it is definitely one for the heads.
The L.A. Spacefunk dub takes things even deeper with some lush breakdowns and additional keyboard solos from the man himself and is a perfect rub to have in the DJ box.
The following track takes a very different route...over to New Jersey. 'Keep On' sounds like Kerri on a (very) good day but comes with additional musicality and bongo action from Laroye. A proper club joint with musicality.
Add to cart