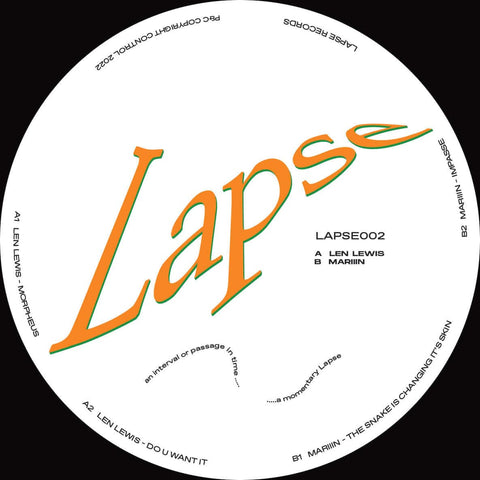 RELEASE
Len Lewis / Mariiin - 'LAPSE002' Vinyl
LABEL:
Lapse Records
The second release on Lapse records welcomes UK Tech House mainstay Len Lewis, who's extensive catalogue of club music stretches across the last few decades, along with newly appraised London based DJ and producer Mariiin. The split EP supports a four track selection of old and new head down club music touching different moods.
Len's inserts lead on the A side with the carefully sampled Matrix acapella laid across "Morpheus", a tweaking and dusted 2 step thrill, in keeping with the left leaning spooky tone of the first Lapse release and label sound. "Do U Want It" follows in similar ilk to the self professed Sinister tech house sounds previously ventured on the likes of early Swag and Poodle Records releases of the early 2000's that became essential points of reflection for the genre's progression since.
The B side spans a more contemporary 4x4 influenced thread of this style that circles closer to the outer rims of techno and acid. The Italian born producer joins the label with the "Snake Is Changing It's Skin" and "Impasse" which continue fittingly to carve their signature sound, a style consistent in their early releases on the likes of BPR and EYA Records and across their DJ sets as Pleasure Club resident.
Add to cart