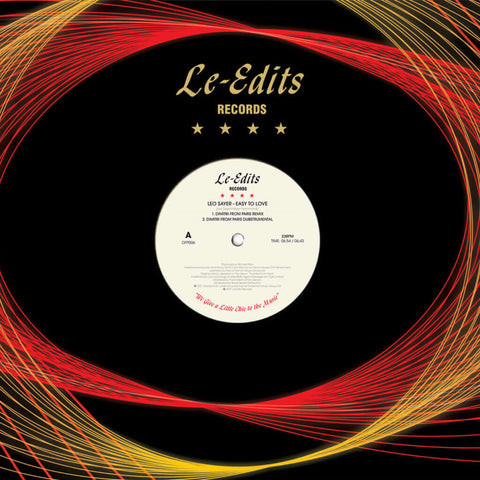 RELEASE
Leo Sayer / Average White Band - Easy To Love / Let's Go Round Again
LABEL:
Le Edits
Media Condition: Very Good +
Sleeve Condition: Near Mint
French Disco maestro Dimitri From Paris' Le Edits imprint is back supplying you with the excellence you've come to expect.
As ever beautiful new versions of deep soul and disco classics alongside the most fantastically realised limited physical artefacts are the name of the game. When you buy a Le Edits release, you know you are holding something très magnifique in your hands!
Le Edits No.6 is truly a treat. A split 12" featuring 2 very different artists, reworked to stunning effect. The A-side sees 2 mixes of Leo Sayer's 1977 stepper 'Easy To Love' sit comfortably across the whole side of wax. A real connoisseurs track, this midtempo treat has seen numerous cover versions and has long been a play for underground DJs and diggers for many years. Naturally, Dimitri has crafted these special versions in true Le Edits fashion - with infinite love, care and respect, from the master tapes - we're even treated to a 'dubstrumental' take that eases Richard Perry's languid original arrangement into new places in the best possible way.
Average White Band's anthemic 'Let's Go Round Again' is a stone cold disco classic, instantly recognisable and one of many highlights in the Scottish groups enviable discography. AWB have long been cherished by true fans of disco and soul music, and their music has been sampled, reworked and rediscovered numerous times. Dimitri brings his deft studio expertise and knowledge to the table and turns out a stellar new remix and 'club dub' of this evergreen mover. With much care, sensitivity and unfettered access to the licensors, source audio and tapes, Dim has managed to breath new life into these records and continues his reign as one of contemporary music's top remixers.
All mixes are fully sanctioned and created in conjunction with the artists, rights holders and Above Board Distribution. These releases are 100% official and therefore essential. This isn't an 'under the counter' operation, Dimitri and Le Edit are here to bring back quality and class to the re-edit game by doing things, once and for all, properly and respectfully. All Le Edits releases include a no re-press guarantee. Utilising the highest end tip-on heavy duty sleeves, and outer protective sleeves, pressed onto 100% virgin vinyl. These new mixes have been legitimately commissioned and will not be available digitally. This product cost 4 times as much to produce than your average Disco edit 12'' because Le Edits believe in quality first and foremost.
Add to cart