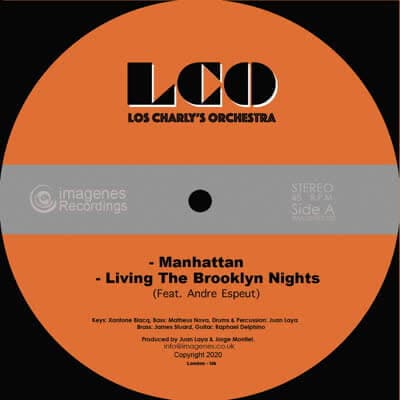 RELEASE
Los Charly's Orchestra - 'Manhattan' Vinyl (PRE-ORDER)
LABEL:
Imagenes
PRE-ORDER ITEM
Expected in stock between 12th - 26th February
PLEASE ORDER PRE-ORDER ITEMS SEPARATELY FROM IN STOCK ITEMS IF YOU WOULD LIKE TO AVOID DELAYS TO YOUR ORDER/S
"Manhattan / Living The Brooklyn Nights EP" is probably the most ambitious project (in terms of production accuracy) from producers Juan Laya & Jorge Montiel till today.
The track "Manhattan" pushes the boundaries of fusion between the old and new school of production to a super optimized level, breaking the all kind of sonic and mental barries.
Jazz Funk Guru and good friend: Xantone Blacq takes it to the keys in an almost cinematic style, while Neo Soul singer Andre Espeut delivers one of his best performances to date (at least with LCO) in a flawless-deep-atmospheric feel that leaves us wondering in thoughts on the track: "Living The Brooklyn Nights".
Textures, dynamics, an immaculate definition of a 70's freq spectrum & the most outstanding musicianship... all blended in such a precise detail for the cut of one of the most precious LCO gems to date.
24 Carat NU-Jazz-Funk-Disco fusion it's best.
Vinyl, 12", EP
Add to cart