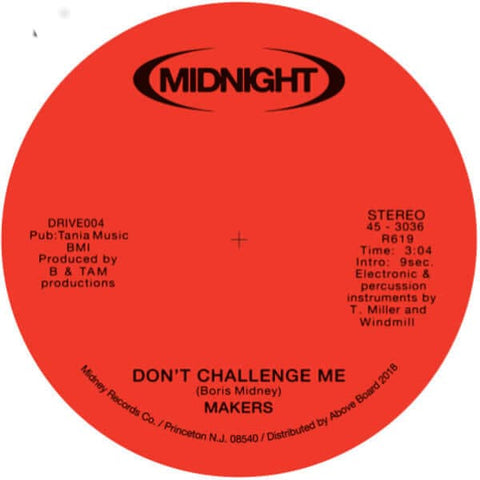 RELEASE
Makers - Don't Challenge Me
LABEL:
Midnight Drive
Techno, Disco, Italo, Electronics, House, Library, Cosmic and Ambient frequencies - These are the bedrocks of the Midnight Drive ethos and sound. A label shining a light on overlooked or unheralded creations and respectfully reissuing them for the contemporary audience. A label that respects and understands the connection between these disparate and sometimes forgotten forms of musical expression and celebrates them. Midnight Drive are extremely proud to present this most beautiful and unique of records - Makers 'Don't Challenge Me' - A truly idiosyncratic early 70's electronic oddity that has long been a coveted and highly prized piece of music by obscure music lovers for many years.
Makers was the moniker for another studio project by legendary euro-disco pioneer Boris Midney. Midney, a Russian ex-pat, explored his own sonic world and in the process crafted some of the biggest records during the most fertile times in the disco period, he created numerous projects including Beautiful Bend, USA-European Connection, Caress and many more.
A classically trained musician and jazz artist, his trail-blazing studio work meant he was one of the first producers to embrace the capabilities of multi-track mixing in a most creative way. Listening to this 45, a limited release on his own 'Midney' micro label, you can certainly hear genius at work, it's mind boggling that this record was crafted when it was (1972) as it sounds totally ahead of it's time and sounds exciting and original to this day. Truly one of the scarcest records of it's kind we were extremely humbled to be able to work with Boris and his organisation on this very special reissue that has been a collaborative effort all the way. This reissue has been repressed from Boris' own masters and every care has been taken to ensure that this lo-fi oddity sounds as good and clear as possible and the label artwork is a close rendering to the original as a respective nod to Boris and the Midney imprint by our friends Atelier Superplus. This is the very first time this record has ever been reissued (it was included on the most incredible 'Personal Space' compilation from a few years ago) and people will be very surprised to hear the b-side for the very first time - 'You're Shy' - A sweet soul number that almost recalls The Staple Singers and could easily have been released on Stax or any familiar labels of that ilk that somehow manages to retain the strange and overall DIY aesthetic of the 'Makers' sound.
Remastered by Optimum Mastering, Bristol UK. Artwork and design by Atelier Superplus. Reissued in conjunction with Boris Midney / Midney Records. 2018.
Add to cart