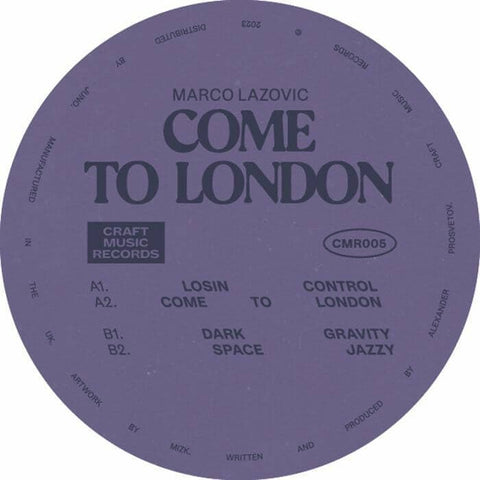 RELEASE
Marco Lazovic - Come To London
LABEL:
Craft Music
PRE-ORDER ITEM
Expected in stock between 19th May - 2nd June
PLEASE ORDER PRE-ORDER ITEMS SEPARATELY FROM IN STOCK ITEMS IF YOU WOULD LIKE TO AVOID DELAYS TO YOUR ORDER/S
The Craft Music label is back after a one year break with some fresh new cuts by resident Marco Lazovic. It's an EP inspired by the sound of the English club scene in the nineties and noughties, labels like Good Looking Records and artists such as Mike Millrain. Opener 'Losin Control' sure is a compelling mix of electro and breaks that soars on cosmic lines with euphoric vocals in the distance. 'Come To London' has a distinctly garage feel to it with its crisp broken beats and there is more high energy but melody-rich breakbeat action in 'Dark Gravity' while 'Space Jazzy' is s super sweet and deep jungle cruiser.
Add to cart