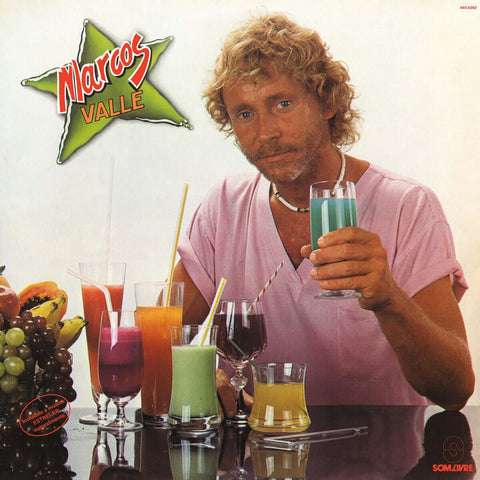 RELEASE
Marcos Valle - Marcos Valle
LABEL:
Vampi Soul
CLASSIC LP, featuring the Brazil boogie slammer, Estrelar. TIP!
"Marcos Valle is one of the few artists you cannot miss if you have the slightest interest in Brazilian music. Whether your taste is focused on bossa jazz, samba, psych folk or soul, Valle has surely recorded a great album for you. By the late 60s he had already put out enough quality records to secure a place within the top Brazilian songwriters of all time, but his career luckily did not stop there and he continued releasing amazing music over the following decades until this day. He settled in Los Angeles in the mid-70s, tired of living under Brazil's military dictatorship, and started to collaborate with such talented artists as Leon Ware or Chicago.
This self-titled LP from 1983 is the follow-up to the great "Vontade de rever você" (1981) and his second album after moving back to Brazil. It shows all the music influences received during his US years, especially boogie, soul and funk, featuring stellar collaborators: Lincoln Olivetti & Robson Jorge on keyboards and guitar and Leon Ware on backing vocals.
The opening track, the Brazilian boogie anthem 'Estrelar', is Marcos Valle's biggest hit from the 80s and one of the most celebrated songs in his entire career, making clear that what he accomplished while in LA would now make its way into Brazil. 'Estrelar' is devoted to workout exercises under the sun and Valle pictures a beach lifestyle and summertime vibe across the entire album that pretty much describes his surfing days in Southern California.
A couple of early Valle's classic songs, 'Samba De Verao' and 'Viola Enluarada', are updated here to sit nicely next to soaring disco tracks, 'Para Os Filhos De Abraao', killer vocal boogie numbers, 'Dia D', and blissing instrumentals, 'Naturalmente'. And the list goes on and on over a well-balanced tracklist that satisfies both the listening pleasure and the dancefloor needs.
This is an essential album for lovers of 80s cool sounds and the work of Leon Ware, who is the co-writer of three songs in the LP, including the massive 'Estrelar' that was first drafted when both artists were working together in the States and then recorded again when Valle returned to Brazil. "
Add to cart