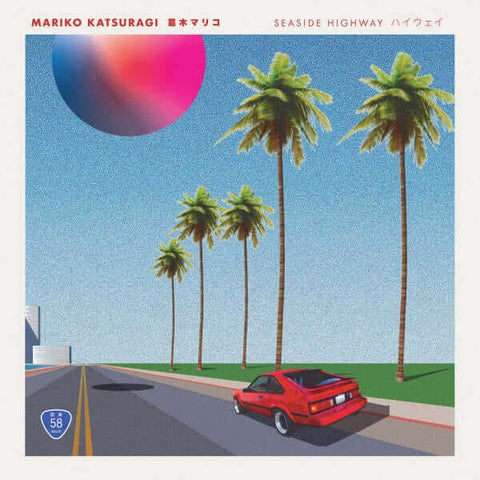 RELEASE
Mariko Katsuragi - Seaside Highway
LABEL:
Memme Vaev
With unprecedented prosperity and growing worldwide fame in broadcast, game, and synthesizers, the 1980s Japan entered a golden decade. New genre splashes from technopop, Pacifica, and AOR/City pop merged local sensibilities with jazz-funk and Latin influences. Spiced in sugary US West coast sparkle and boasting naive lyrics with opulent arrangements and cover designs, it beamed millions of listeners on the cosmic journeys of Japan and its connections with Asia.
Looking to bet on the city pop phenomenon, a group of young, just out-of-school in-house studio players gathered for ad hoc recording sessions between 1982-1986. Spearheaded by up-and-coming associate producer and arranger HASEGAWA Joe and keyboardist KATSURAGI Mariko their goal was to produce a hit album concept with a musical journey from Japan to Asia and beyond.
Just short of wrapping a handful of test-pressings for studio and radio executives and a few tapes of demo recordings, the sessions came to an abrupt halt in 1986 with a striking personal loss. With the band's consequent disbanding and members embarking on their decades-long sessions careers, the original tapes were archived and lost in the Akihabara district for decades…
…until Japanese pop culture *connoisseur extraordinaire* and producer Sten SALUVEER aka MILDHANS discovered a rare demo of the original recordings in one of Tokyo's Ebisu district's revered vinyl bars. After a lengthy period of digging and tracings for the original tapes, the lush soundscapes of KATSURAGI Mariko and HASEGAWA Jo are finally here to take you on a jazzy journey to City Heights of Asia.
Add to cart