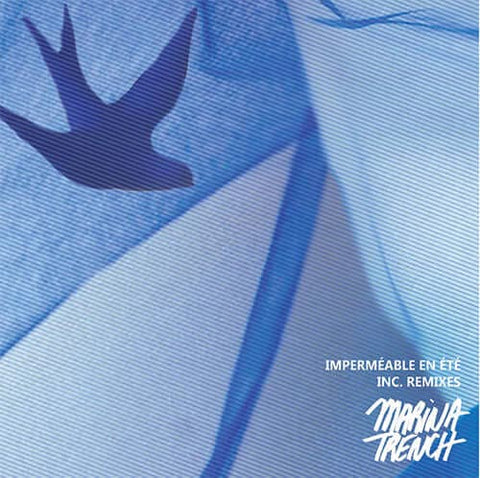 RELEASE
Marina Trench - Impermeable En Ete
LABEL:
Sweet State
PRE-ORDER ITEM
Expected in stock between 24th March - 8th April
PLEASE ORDER PRE-ORDER ITEMS SEPARATELY FROM IN STOCK ITEMS IF YOU WOULD LIKE TO AVOID DELAYS TO YOUR ORDER/S
Going forward in exquisite style, Marina releases her second outing on her own Sweet State imprint, matching three deftly produced originals with three remixes from Gerd Janson, Earl Jeffers and Tatyana Jane. Launching in 2021 with her 'Free Mind EP' complete with remixes from Cinthie and Anna Wall, 'Imperméable en été' now follows up - sure to further cement her position as an artist in the ascendancy.
 
On this long-awaited release, Marina Trench delivers three originals cuts, that range from the colourful opener and nu disco lovely 'Ose', co-composed and performed with fellow Parisian producer Hugo LX, to the classic house vibrations of the club oriented 'L'Orage', via some pop infused downtempo vibes from the heartfelt ballad 'Hirondelle'. With these three new compositions, Marina shows her shimmering musical versatility and aims to blow some fresh air into her own sonic galaxy.
 
The B side houses a series of impressive remixes, kicking off with one of the most legendary artists of this time, Gerd Janson, and his instantly recognizable touch. Gerd delivers an ever so classy version of 'Ose' feat Hugo Lx that keeps the sultry sample of Marina's vox present, while he composes a whole new bassline that leads the groove.
 
Next comes a remix of 'L'Orage' by the very talented Earl Jeffers. His deep-down groove lead style sits at the crossroads of afro and UK house. Adding new pads, synthwork, and solid bass, Earl perfectly reworks the track for the club and introspective moments alike, by submerging the listener into his colourful and vibrant shade of house.
 
Tatyana Jane's brilliant effort rounds off the EP. An emerging talent from France who makes a mark with her production skill once again through her rerub of 'Hirondelle'. Bringing a whole new vibe that blends influences of breakbeat to techno to afro-futurism. Marina's vocal is on repeat throughout, bolstered by building drums that carries the dancer away in a sonic whirl.
Add to cart