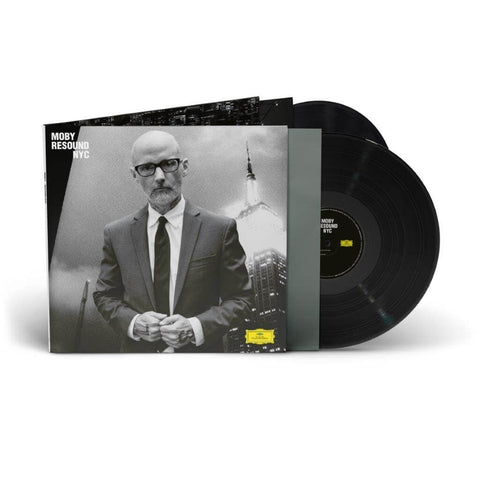 RELEASE
Moby - Resound NYC
LABEL:
Decca (UMO) / Classics / Deutsche Grammophon
PRE-ORDER ITEM
Expected in stock between 12th - 26th May
PLEASE ORDER PRE-ORDER ITEMS SEPARATELY FROM IN STOCK ITEMS IF YOU WOULD LIKE TO AVOID DELAYS TO YOUR ORDER/S
Moby's second album on Deutsche Grammophon following 2021's Bestselling Album & Chart Success "Reprise". Digging further into his catalogue, Moby has reimagined fifteen of some of his most iconic tracks for his new album "Resound NYC", featuring tracks that he wrote between 1994-2010 while living in New York City, and the new versions feature a vibrant, brass-heavy sound.  From the sublime desperation of "When It's Cold I'd Like to Die" to the manic stomp of "Extreme Ways" (best known as the theme from the "Jason Bourne" film franchise), the reworked tracks burst forth with boundless energy. Guest vocalists on "Resound NYC" include Nicole Scherzinger, Gregory Porter, Ricky Wilson (Kaiser Chiefs), Mylene Farmer, Amythyst Kiah, Lady Blackbird, Dougy Mandagi (The Temper Trap) and more.
Tracklist
LP1, SIDE A
In My Heart (Resound NYC Version) feat. Gregory Porter
Extreme Ways (Resound NYC Version) feat. The Temper Trap
South Side (Resound NYC Version) feat. Ricky Wilson
Flower (Find My Baby) (Resound YNC Version) feat. Amythyst Kiah
LP1, SIDE B
In This World (Resound NYC Version) feat. Nicole Scherzinger, Marisha Wallace
Helpless (Resound NYC Version) feat. Margo Timmins, Damien Jurado
Signs Of Love (Resound NYC Version)
The Perfect Life (Resound NYC Version) feat. Ricky Wilson
LP2, SIDE C
When It's Cold I'd Like To Die (Resound NYC Version) feat. P.T. Banks
Slipping Away (Resound NYC Version)
Second Cool Hive (Resound NYC Version) feat. OUM, Sarah Willis
Hyenas (Resound NYC Version)
LP2, SIDE D
Last Night (Resound NYC Version)
Run On (Resound NYC Version) feat. Danielle Ponder, Elijah Ponder
Walk With Me (Resound NYC Version) feat. Lady Blackbird
Add to cart