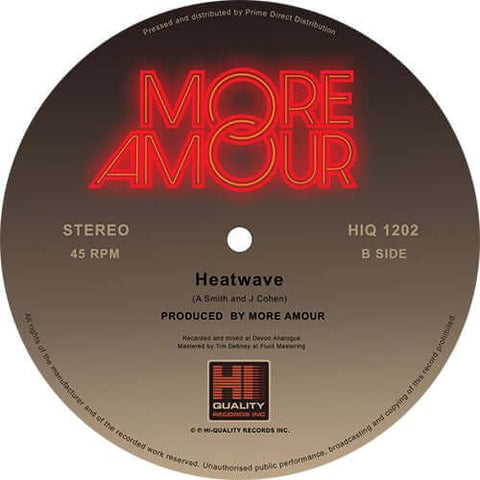 RELEASE
More Amour - Solar Flair
LABEL:
Hi Quality Records Inc
Following the intergalactic odyssey of their first release, Hi Quality Records are back for round two. Switching to hyperdrive for another blast round the sun with two feel-good, cosmic channelling, disco burners from the mighty More Amour aka Artwork and Jon Solo.
 
Cruising out across the cosmos 'Solar Flair' is a sublime slice of boogie brilliance, with an infectious bassline and keys to match. Turning the heat up to 10 with Jon Solo on the solos, spiritually working those keys as Artwork conjures up his magic at the production controls. If you could drop the top on this spaceship and roll those windows down, this is definitely the groovin', head bobber you'd have soundtracking your beam across the interplanetary highways.
 
With that non-existent breeze flowing over your spacesuit, 'Heatwave' ramps up proceedings on the B side. A funk-fuelled trip where sweltering Rodgers-esque riffs and slap basslines dance around string stabs and smile-inducing chords, with a signature spellbinding synth solo to top it all off. Break glass in case of emergency, this is your ticket out of any subdued dancefloor.
Add to cart