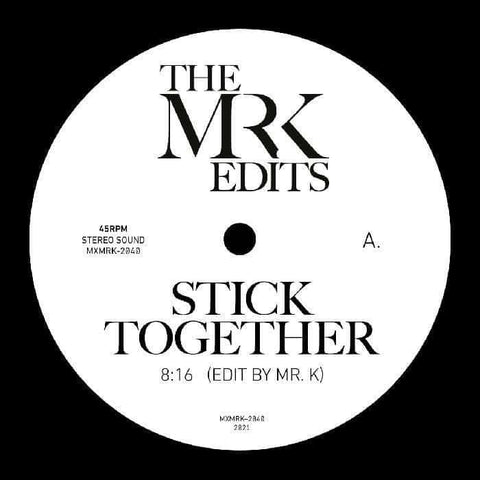 RELEASE
Mr K - Stick Together
LABEL:
Most Excellent Unltd
The latest from Mr. K and Most Excellent Unlimited pairs lowdown and stomping disco from an unlikely source with a funked-out floorfiller from some very familiar voices. Minnie Riperton's 1977 single "Stick Together" was an outlier in her catalog of smooth modern soul, an intentional nod in the direction of the prevailing disco sound.
In Mr. K's epic edit we are treated to a lengthy exploration of the second part of "Stick Together," featuring keyboardist Sonny Burke (veteran of Marvin Gaye's band and fresh from playing on Candi Staton's disco smash "Young Hearts Run Free") working out an irresistible Jingo-esque piano part, Riperton's sensual ad-libs, and, as if that wasn't enough, a cameo appearance by Pam Grier on finger snaps!
Our flip side, "Body Language," originated as an album cut on the Jackson Five's last album of original material for Motown, Moving Violation, recorded before Jermaine left to go solo and the remaining brothers joined Epic Records in a new incarnation as the Jacksons. With his new edit, Mr. K presents the track in its ultimate form, loud, remastered, stretched out and rippling with energy over a full six minutes. With an iconic bass line that just doesn't quit, and Michael and the boys in fine form, it's impossible to imagine a situation where this wouldn't set the room on fire.
Vinyl, 12", EP
Add to cart