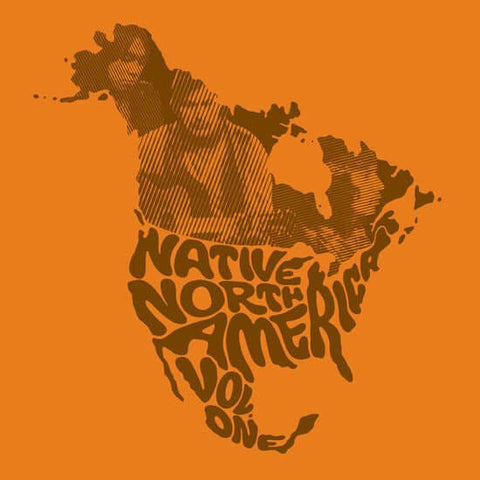 RELEASE
Native North America (Vol. 1) - Aboriginal Folk, Rock, and Country 1966–1985 [3xLP]
LABEL:
Light In The Attic
Largely unheard, criminally undocumented, but at their core, utterly revolutionary, the recordings of the diverse North American Aboriginal community will finally take their rightful place in our collective history in the form of Native North America (Vol. 1): Aboriginal Folk, Rock, and Country 1966–1985. An anthology of music that was once near-extinct and off-the-grid is now available for all to hear, in what is, without a doubt, Light In The Attic's most ambitious and historically significant project in the label's 12-year journey.
Native North America (Vol. 1) features music from the Indigenous peoples of Canada and the northern United States, recorded in the turbulent decades between 1966 to 1985. It represents the fusion of shifting global popular culture and a reawakening of Aboriginal spirituality and expression. The majority of this material has been widely unavailable for decades, hindered by lack of distribution or industry support and by limited mass media coverage, until now. You'll hear Arctic garage rock from the Nunavik region of northern Quebec, melancholy Yup'ik folk from Alaska, and hushed country blues from the Wagmatcook First Nation reserve in Nova Scotia. You'll hear echoes of Neil Young, Velvet Underground, Leonard Cohen, Creedence Clearwater Revival, Johnny Cash, and more among the songs, but injected with Native consciousness, storytelling, poetry, history, and ceremony.
The stories behind the music presented on Native North America (Vol. 1) range from standard rock-and-roll dreams to transcendental epiphanies. They have been collected with love and respect by Vancouver-based record archaeologist and curator Kevin "Sipreano" Howes in a 15-year quest to unearth the history that falls between the notes of this unique music. Tirelessly, Howes scoured obscure, remote areas for the original vinyl recordings and the artists who made them, going so far as to send messages in Inuktitut over community radio airwaves in hopes that these lost cultural heroes would resurface.
1. Willie Dunn – I Pity the Country 2. John Angaiak – I'll Rock You to the Rhythm of the Ocean 4. Sugluk – Fall Away Sikumiut – Sikumium 5. Willie Thrasher – Spirit Child 6. Willy Mitchell – Call of the Moose 7. Lloyd Cheechoo – James Bay 8. Alexis Utatnaq – Maqaivvigivalauqtavu 9. Brian Davey – Dreams of Ways 10. Morley Loon – N'Doheeno 11. Peter Frank – Little Feather 12. Ernest Monias – Tormented Soul 13. Eric Landry – Out of the Blue 14. David Campbell – Sky-Man and the Moon 15. Willie Dunn – Son of the Sun 16. Shingoose (poetry by Duke Redbird) – Silver River 17. Willy Mitchell and Desert River Band – Kill'n Your Mind 18. Philippe McKenzie – Mistashipu 19. Willie Thrasher – Old Man Carver 20. Lloyd Cheechoo – Winds of Change 21. The Chieftones (Canada's All Indian Band) – I Shouldn't Have Did What I Done 22. Sugluk – I Didn't Know 23. Lawrence Martin – I Got My Music 24. Gordon Dick – Siwash Rock 25. Willy Mitchell and Desert River Band – Birchbark Letter 26. William Tagoona – Anaanaga 27. Leland Bell – Messenger 28. Saddle Lake Drifting Cowboys – Modern Rock 29. Willie Thrasher – We Got to Take You Higher 30. Sikumiut – Utirumavunga 31. Sugluk – Ajuinnarasuarsunga 32. John Angaiak – Hey, Hey, Hey, Brother 33. Groupe Folklorique Montagnais – Tshekuan Mak Tshetutamak 34. Willie Dunn (featuring Jerry Saddleback) – Peruvian Dream (Part 2)
3 x 12" Vinyl, LP, Compilation
Add to cart