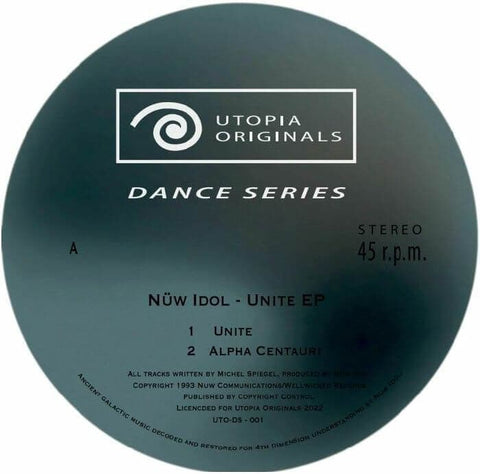 RELEASE
Nuw Idol - Unite
LABEL:
Utopia Originals
PRE-ORDER ITEM
Expected in stock between 5th - 19th May
PLEASE ORDER PRE-ORDER ITEMS SEPARATELY FROM IN STOCK ITEMS IF YOU WOULD LIKE TO AVOID DELAYS TO YOUR ORDER/S
Utopia Originals kicks off with a brilliant first real which revives some early progressive and trance sounds from 1993. They still sound right on point today which shows what a visionary Michel Spiegel aka Nuw idol really was. He himself describes this as "ancient galactic music decoded and restored for 4th dimension understanding". It is Alex Bradley who has put together this series of 12"s from the archive and you might have heard 'Restore' on a recent comp by Kalhari Oyster Cult. The entire EP has been remastered here in all its glory.
Add to cart