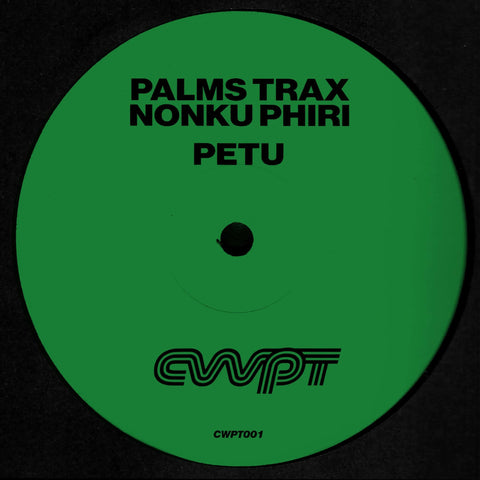 RELEASE
Palms Trax & Nonku Phiri - Petu
LABEL:
CWPT
Palms Trax signals the arrival of his new label CWPT with 'Petu', a new single featuring South African vocalist, Nonku Phiri. Originally debuting in dub form during the Berlin-based DJ and producer's set at The Music Locker as part of Grand Theft Auto Online, 'Petu' re-emerges here as a soulful collaboration, neatly complimented by a wide-eyed take from Masalo.
Initially written as a slow-heating instrumental to connect the various musical dots across a DJ set, Palms Trax nonetheless had a vocalist in mind throughout, a fresh voice to lend 'Petu' universality and energy. Introduced through mutual friend Esa, Johannesburg's Nonku Phiri draws on her signature style influenced by vintage Afropop styles and folk traditions, delivering a smooth and vulnerable tale of desire. Triumphant brass recorded by instrumental collective Jungle By Night adds to the depth of instrumentation and feeling throughout, each element driven by Palms Trax's ebullient percussion and an altogether celebratory energy felt across both the original and dub cuts.
Closely associated with Dutch dance music staple Rush Hour Records, Masalo subtly raises the tempo on his high-energy rework of Petu, spinning off the interconnected elements of the original into a memorable and gloriously Italo-tinged house trip.
Established in 2021, CWPT will play home to Palms Trax original productions alongside collaborations, mixtapes, new-generation artists and vital reissues. An online blog will feature interviews, reportage and charts exploring the stories past and present at the fringe of Palms Trax's wide-reaching record collection.
Add to cart