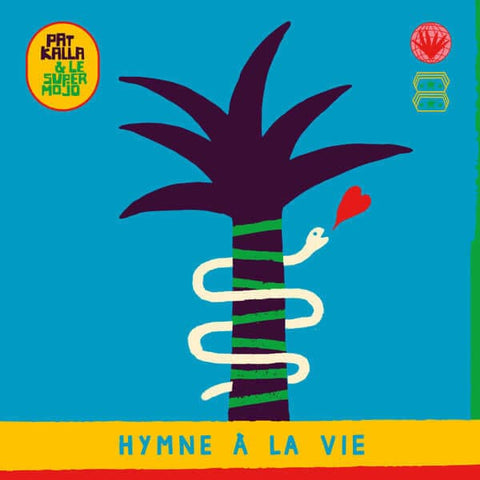 RELEASE
Pat Kalla & Le Super Mojo - Hymn To Life
LABEL:
Pura Vida Sounds, Heavenly Sweetness
Media Condition: Near Mint
Sleeve Condition: Near Mint
A unique fusion of Cameroonian poetry and Chanson Française. Think Manu Dibango jamming with Georges Moustaki on the banks of the River Seine ....
Pat Kalla's second album and his powerful Super Mojo 8 band, in which they take their unique blend of Afro funk, Makossa, Cumbia and French Chanson even further. As if the late Manu Dibango met Georges Moustaki under the South American Sun. Hymne à la Vie Pat Kalla's second full-length LP out on Heavenly Sweetness is not only as the title has it, a hymn to life, it's also a fine showcase of his band, the "Lyon-based groovers," le Super Mojo and a select group of guests from West Africa (DjeuhDjoah, Lass). Parisian singer Lieutenant Nicholson joins DjeuhDoah to perform a touching duet on the closer and West Indies singer/songwriter - and fellow Heavenly Sweetness artist – David Walters shines on the LP in a lilting pop-funk number drenched in a luxurious groove.
Add to this the delicate, sophisticated production pallette of the DJ/producer Guts - another Heavenly Sweetness labelmate - and you have a release of subtle, satisfying power.
Add to cart