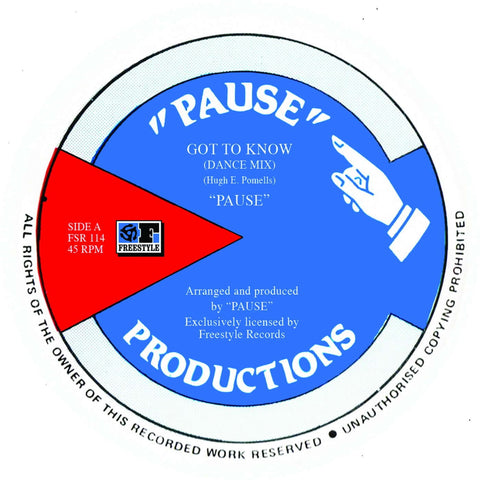 RELEASE
Pause - Got to Know
LABEL:
Freestyle Records
Two big 12" drops this week on Freestyle Records, in the form of both impossibily rare singles recorded by early UK street soul act Pause. Dating from the late 80s these 12"s represent some of the finest music to come out of this period of british soul music, and represent the entirity of the trio's known output!
Pause was a boogie/soul side-project born out of popular lovers rock group The Administrators - who recorded a multitude of sides for the foundational Harlesden producer/imprint Cha Cha before going on to found the Groove & A Quarter label recording a series of hits on the lovers scene during the latter part of the decade. Pause's Hugh Pomells recalls a desire to take the music in a new direction as being the driving force behind the project, with the group also counting vocalist Sinclair in it's ranks (who would go on to record a series of hit singles for the Dome label in the early-to-mid 1990s).
Alongside the seminal electro-boogie of 1987's "It's Just Amazing" came this, the smooth space-age soul jam "Got to Know" in 1988 - an absolutely killer jam, I'm sure you'll agree, and really quite ahead of it's time production-wise. As the only two singles ever recorded by the group, originally self-relesed in very small quantities, they have gone on to command massively inflated prices on the secondhand market. The first ever officially licensed reissues of these lost british soul classics will not hang about for long, so grab them quick!!!
Add to cart