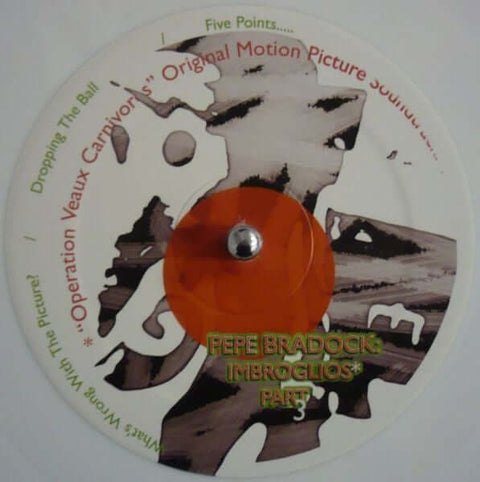 RELEASE
Pepe Bradock - Imbroglios Part 3
LABEL:
Atavisme
Media Condition: Near Mint
Sleeve Condition: Very Good +
The third of four mooted Pepe Bradock 12"s consisting of soundtrack music to the imaginary film Operation Veaux Carnivores arrives and the suite of tracks here prove to be every bit as singularly impressive as the previous two Imbroglios releases. Bradock's always taken house as a foundation and twisted your preconceptions on their head, and the six tracks here prove that the French producer's time spent away from the spotlight is well spent. Much like the cat purring "Inconsequent Pussy" from the debut Imbroglios 12", the standout track here takes a strange sample as its starting point and builds something wholly infectious from it. "A Bunch of Cephalophores" takes its name from the vocal sample that appears distorted throughout, as Bradock weaves a rasping house groove that finds a snug spot in your affections and refuses to leave. The remaining five tracks prove to be just as refreshing on your ears as this, not least the half stepping, cavernous boom bap of "What's Wrong with the Picture".
Add to cart