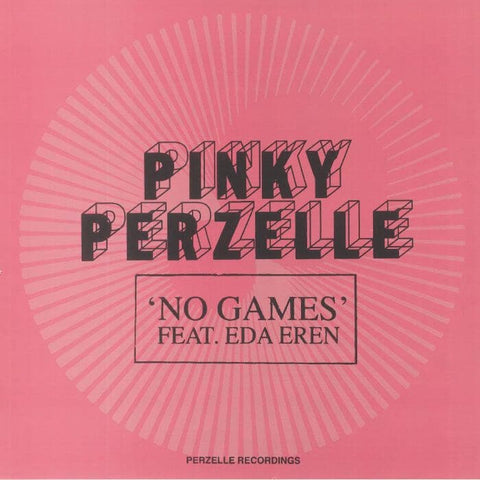 RELEASE
Pinky Perzelle - No Games (Repress)
LABEL:
Perzelle Recordings
PRE-ORDER ITEM
Expected in stock between 4th - 18th August
PLEASE ORDER PRE-ORDER ITEMS SEPARATELY FROM IN STOCK ITEMS IF YOU WOULD LIKE TO AVOID DELAYS TO YOUR ORDER/S
Pinky Perzelle, aka Sonny Rooney's debut 'No Games' featuring Eda Eren, is a true labour of love and an ode to his total passion and dedication to multi instrumental record creation without compromise. Almost every instrument was recorded and played by Perzelle at his home studio. Featuring the utterly unique, impassioned and reassuring vocals of British-Turkish artist, Eda Eren, and additional drums from world renowned Malcolm Catto (The Heliocentrics). The lead track is a timeless, heartfelt, funk-ladened portal into a world reminiscent of a cinematic movie scene or an undiscovered gem from another era all-together. The hypnotic 'Remix' from Velvet Season & The Hearts Of Gold aka Gerry Rooney & Joel Martin, introduces subtle electronica and dubbed out instrumentation. A true lesson in after hours, left-field Balearica. Pinky's own 'Electronic Mix' references early house music and broken-beat electronic drums. Showing yet another side of Perzelle's approach to music making.
Add to cart