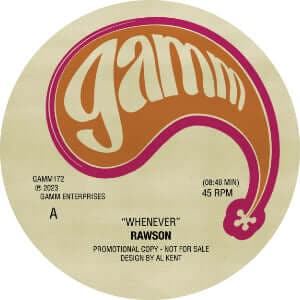 RELEASE
Rawson - Whenever
LABEL:
G.A.M.M.
PRE-ORDER ITEM
Expected in stock between 2nd - 16th December
PLEASE ORDER PRE-ORDER ITEMS SEPARATELY FROM IN STOCK ITEMS IF YOU WOULD LIKE TO AVOID DELAYS TO YOUR ORDER/S
Debut release for Rawson (who?) on GAMM with an uplifting vocal jazz-funk nugget (uk organ style) that comes with some serious breakbeat action as the rhythm foundation. On the flip there is also a killer 4/4 dub with some freaky space effects...dark and underground is an understatement.
To be honest, we're not sure which side we prefer the most as both sides definitely deliver the goods. Take yo pick!
Add to cart