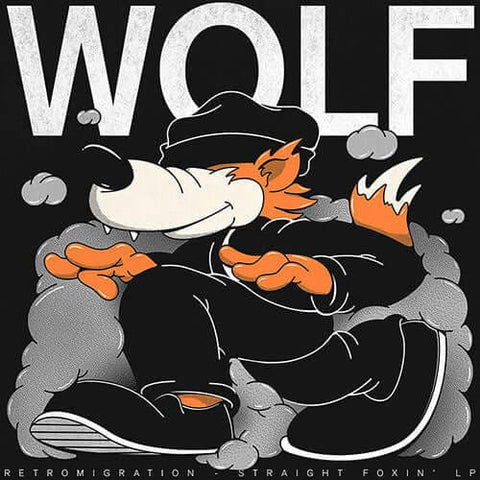 RELEASE
Retromigration - Straight Foxin
LABEL:
WOLF Music
Dam-based don Retromigration steps into the big leagues letting loose his debut album on WOLF Music. An LP that has long been in the works and for good reason too. Fourteen expertly executed tracks that range from hazy beats and jazz-tinged broken rhythms to club-ready groovers, deep excursions, soulful footwork and even some jungle energy. A flavour for every occasion and damn it tastes good.

With an envious run of releases on the likes of Handy, Healthy Scratch, wewillalwaysbealovesong and WOLF in a relatively short space – Retormigration is hot property and it's clear to see why. A distinctive style and energy permeate his tracks with a breadth of influences on offer, from hip hop, to jazz, soul to funk. You just know a long player from this player is going to cover all bases.

His debut LP, Straight Foxin', is a carefully curated and crafted journey showcasing the creative explosions firing off in Retromigration's brain. Joining the dots between genres, taking elements from here, ideas from there – twisting and turning yet never out of place. Take the opening three tracks, all tied together by a deep fondness for jazz but served up in different styles, 'Kunta' with that hazy beatsy blend, 'Formant' leaning into the realms of broken beat and DnB and 'Be Someone' cruising with the off-kilter house.

Elsewhere there's prime examples of Retromigration's signature sample-laden house with deeper cuts like 'Mada' and 'Bouncer', sitting side by side with more soulful explorations such as 'New Cribs' and 'ITWT'.

Not one to be pigeonholed, another course of Retromigration's expansive taste gets served up with four high energy hits. The bouncing footwork flavours of 'Kush Love' ft. Passion Deez and ethereal excursion 'What If' lead into a captivating nod to the heydays of jungle and DnB on 'Mild Fever' and 'Bad Knees' respectively.

Straight Foxin', mad flexin' – Retromigration has laid down the law with this LP, a debut album done right.
Add to cart