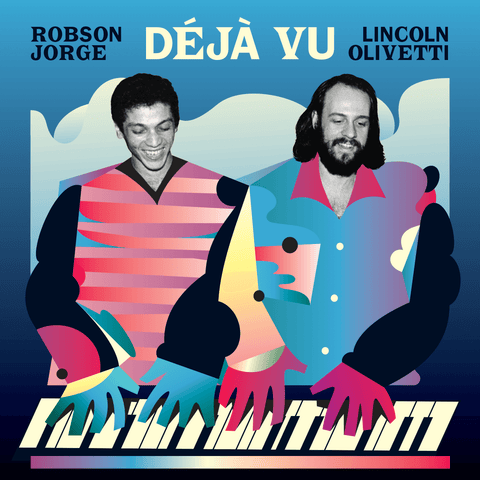 RELEASE
Robson Jorge & Lincoln Olivetti - Deja Vu
LABEL:
Selva Discos
PRE-ORDER ITEM
Expected in stock between 21st July - 4th August
PLEASE ORDER PRE-ORDER ITEMS SEPARATELY FROM IN STOCK ITEMS IF YOU WOULD LIKE TO AVOID DELAYS TO YOUR ORDER/S
"Déjà Vu", a true labour of love project featuring 5 previously unreleased songs from two of Brazil's most celebrated artists, Robson Jorge and Lincoln Olivetti. Recorded between 1982 and 1986, these tracks take off from the legendary boogie-disco, jazz-funk fusion sound they presented in their first – and only – album together and allow us to have a glimpse of what their planned second volume would sound like. This collection of songs is a must-have for DJs, Brazilian music fans, and music aficionados alike. 

Robson Jorge and Lincoln Olivetti have been influential figures in the Brazilian music scene for decades, with their innovative and groovy sound inspiring many artists in Brazil and beyond. They participated in more than 1,000 records, including groundbreaking work with Tim Maia, Marcos Valle, Gilberto Gil, Gal Costa, Rita Lee, and Jorge Ben, either arranging, producing and/or playing in their albums. This release offers a unique opportunity to experience some of their never-heard-before material, each song expertly restored and remastered from Lincoln Olivetti's vaults to ensure that the original recordings were preserved.

For disco DJs, this record is a treasure trove of dancefloor gold, specially the opening track "Suspira", certified material to get any party started. Brazilian music fans worldwide will appreciate the unique blend of Brazilian rhythms with disco and funk elements. And for music aficionados, this release is a rare gem, offering a peek into the creative process of two legendary musicians and producers. In the end, this very special release has the potential to be a hit with a wide range of music lovers.

Comes with an 8-page insert with photo's and liner notes in portuguese and english.
Add to cart