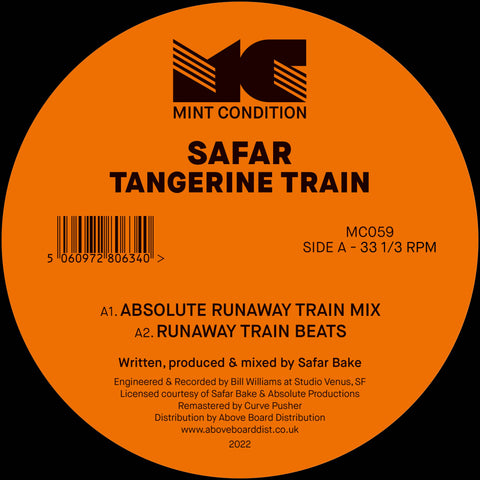 RELEASE
Safar - Tangerine Train
LABEL:
Mint Condition
Mint Condition - A record label focused on excavating the outer fringes of classic House and Techno. Unreleased mixes, classics, overlooked gems and never heard before material, mined from the last 30+ years of contemporary dance music are the order of the day. From Chicago, Detroit and New York to London and beyond. Mint Condition have got their digging hats on to bring you exclusive heat and those rarer than rare jams that have been in your wants list for years. Dig in....
With acclaimed releases on Strictly Rhythm under his belt, much lauded Californian DJ and producer Safar followed up his early success on L.A. based Aqua Boogie. Originally released in 1996, 'Tangerine Train' would become his most sought after release, rightly garnering the attention of the most discerning DJs, record collectors and music heads alike as the eye watering Discogs prices will attest. 4 complimentary mixes of 'Tangerine Train' feature here, so get ready to jump on board.
The 'Absolute Runaway Train Mix' opens proceedings with driving beats and railroad bells. An undulating acid line builds and builds, adding chords that lead to a dramatic breakdown, train FX and strings add to the tension, reaching a mesmeric peak when a killer breakbeat kicks in and the acid line returns. Next up the 'Train Beats Mix' cuts the track back to the percussion and FX for those wanting to get creative in the mix. 'Lost In A Tunnel Of Dub' has all the classic elements of its predecessors, although programmed in a slightly more subtle way, the percussion remains as crisp as ever and a classic organ riff lightens the mood without ever losing the dancefloor energy. Last, but by no means least the 'Last Acid Train To Euphoria Mix' goes on a deeper hypnotic trip, losing the train FX, but adding an ethereal vocal to devastating effect.
Whichever mix you choose to play you can't go wrong, all are worthy of your attention and hard earned cash. The sound design and execution are second to none and what's more your dancefloors will shudder. "Tangerine Train' has been legitimately re-released with the full involvement of Safar, lovingly remastered by London's Curve Pusher from the original DATs especially for Mint Condition. 100% legit, licensed and released. Dug, remastered, repackaged and brought to you by the caring folks at your favourite reissue label -
Mint Condition!
Add to cart