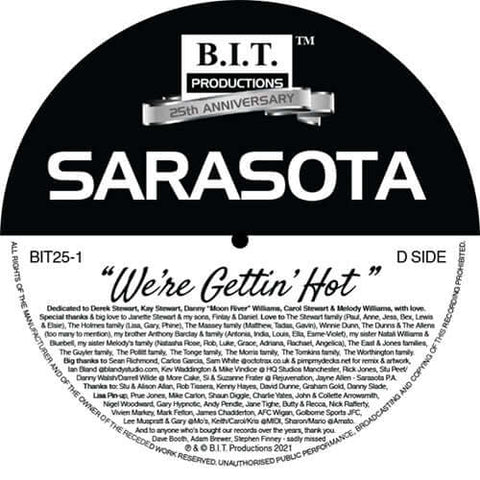 RELEASE
Sarasota - We're Gettin Hot - Part 2
LABEL:
B.I.T. Productions
PRE-ORDER ITEM
Expected in stock between 12th - 26th May
PLEASE ORDER PRE-ORDER ITEMS SEPARATELY FROM IN STOCK ITEMS IF YOU WOULD LIKE TO AVOID DELAYS TO YOUR ORDER/S
Sought after remixes of one of the North West's favourite old skool anthems Sarasota 'We're Gettin' Hot'. The second part of this limited edition colour vinyl EP see B.T.I originals The Crowdpleaser's massive breakbeat flavoured remix, Miguel Sanchez & Carlos Garcia heavy-hitting rework, the Maximum Project's 1997 remix and Pianohead's pumper of an interpretation to close it out.

B.I.T. Productions was set up in 1995, kicking off with a bang by releasing the white label monster, The Crowdpleasers 'I Want You To Know' which sampled Quench 'Dreams'. Over the next 5 years, the label produced tracks of varying styles: Da Fool 'Meet Him At The Blue Oyster Bar' (licenced to FFRR), quintessential 'A Day To Remember', 2 Smashing Blokes 'M.F.' etc, receiving DJ support from the likes of Pete Tong, Graham Gold, Stu Allan, Rob Tissera, Colin Tevendale, James Bradley, Steve Lawler, Lisa Pin-Up, Andy Farley, Lisa Lashes etc.

After a 20-year hiatus, to celebrate the 25th anniversary of the B.I.T. Productions first release in 1995, mid 2020 saw the production team get back in the studio and create five new mixes to go along with three previous mixes for one of the North West's favourite old skool tracks, Sarasota 'We're Gettin' Hot'.
Add to cart