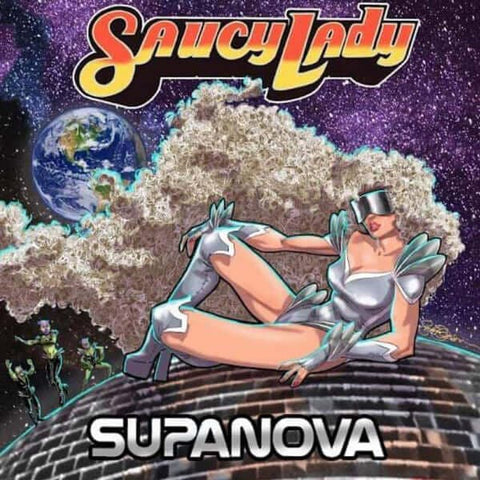 RELEASE
Saucy Lady ‎- Supanova [Warehouse Find]
LABEL:
Star Creature
WAREHOUSE FIND
One of the hottest combinations in modern disco is back again: Saucy Lady x Star Creature. The culmination of the past 5 years of 7" and 12" singles see's the label and Mz. Saucy reach for a higher blast off with this ambitious album full of spaced out jazz funk and masterful boogie grooves we've come to expect from the team.
Sharing production efforts with the multi-instrumentalist/producer Yuki Kanesaka aka monolog, the LP journeys deep into jazz funk, b-boy breaks, and cosmic synths. "Supanova" features some of the top East Coast based horn players including Pharoah Sander's son Tomoki Sanders on tenor sax, along with guitarist Jeffrey Lockhart from Prelude Record's Hi Gloss, and drum chops by The Du Rite's J-Zone. Star Creature is known for it's impressive roster of home studio and bedroom prodigies, but this album is truly "out of this world"...
This album is a full-sensory experience. Animator Steven E. Gordon, (X-Men Avengers comics and the 80s cult favorite Jem and the Holograms cartoons), creates the album artwork making the visuals as impressive as the musical content. The LP gatefold includes comics, the inner sleeve features colorful Saucy Lady paper doll cut-outs, and the cover is topped with cherry-scented scratch 'n sniff sticker, bringing back 80s nostalgia.
If you dig Gene Harris, George Duke, Adriana Evans, or space alien invasions, you will surely be in bliss with this out-of-the-planet album.
Add to cart