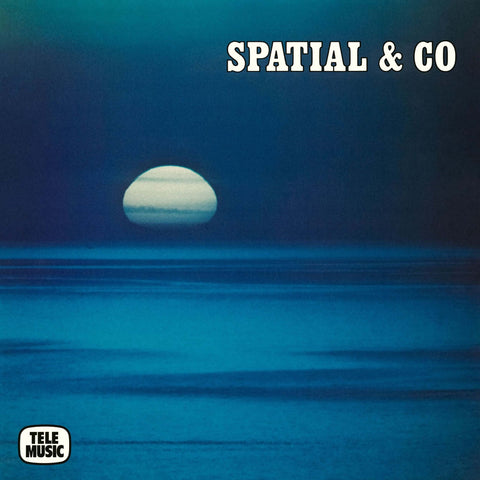 RELEASE
Sauveur Mallia - Spatial & Co
LABEL:
Be With Records
PRE-ORDER ITEM
Expected in stock between 21st April - 5th May
PLEASE ORDER PRE-ORDER ITEMS SEPARATELY FROM IN STOCK ITEMS IF YOU WOULD LIKE TO AVOID DELAYS TO YOUR ORDER/S
Spatial & Co is a synth-drizzled, spaced-out bass-heavy discoid-funk masterpiece from French disco lord and Arpadys maestro Sauveur Mallia. Recorded for French library label Tele Music, in 1979, it's by turns cosmic funk and creeping crime funk, bursting with low slung, k-i-l-l-e-r basslines, loping drum breaks and sparkling percussion. It's so funky it hurts. Confidently swaggering out the gate is "Future Vision", with its loping yet dextrous bassline across strutting beats setting the scene. "Cosmic News", with its live crowd noises over killer bass work is reminiscent of Bernard & Nile's "Chic Cheer". The bass vs synth workout "Baby Bass" increases the propulsion whilst the dark and mysterious vibes of "Star Odyssey" serve as cosmic respite from being overpowered by funk. The temperature and tempo are raised with the bouncing sophisticated funk of "Meteor One", a slinky interstellar instrumental of the highest order before the sultry, melodic "Bass For Love" offers some attractive slow-mo sleaze to close out the first side. Opening up Side B, the menacing, beatless "Space Alert" sounds like all those sci-fi theme tunes from your childhood, synthesised into one glorious (black) whole. "Galaxy Wars" is next, another majestic cosmic gem, sans drums. The ultra-percussive flex of "All The Bass" sees the return of the frenetic funky bass and neck-snapping drums. The stretched out funk of "O.V.N.I. Telex" is irresistible and cavernous in scope whilst the swirling, dramatic "Galactics" is an ominous yet melodic wonder. The throwaway funk-lite "Animals Bass" is a bit of a daft way to close out this otherwise flawless set but, hey, flirting with perfection is probably always more fun than actually achieving it. Sauveur Mallia is a crucial figure in the history of electronic and dance music and a hugely underrated French library bass player and composer from the Arpadys / Voyage crew. This is just the beginning of Be With's Mallia - Tele Music reissue campaign! The audio for Spatial & Co Vol. 1 has been remastered by Be With regular Simon Francis, ensuring the punch of Sauveur's bass and those sick drums come through to the fullest. Pete Norman's expert skills has made sure nothing is lost in the cut whilst the original and iconic sleeve has been restored here at Be With HQ as the finishing touch to this long overdue re-issue.
Add to cart