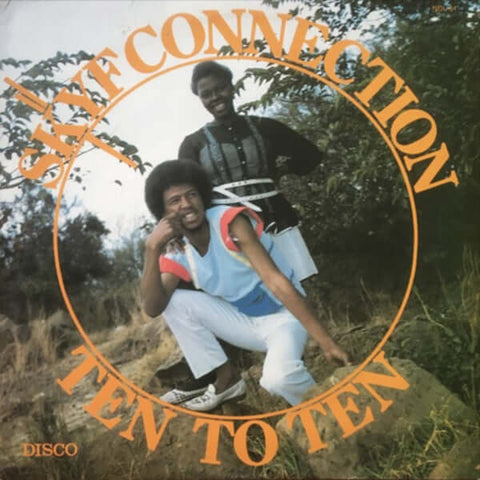 RELEASE
Skyf Connection - Ten To Ten
LABEL:
La Casa Tropical
Media Condition: Mint
Sleeve Condition: Mint
Skyf Connection (pronounced skAyf) was a short lived project by long time friends Anthony Mthembu and Enoch Nondala. At the time they were working for Annic Music, an independent label run by married couple Anne and Nic Blignaut. Although the label was known mostly for Zulu, Sotho, Tsonga and other traditional styles, they had a few Disco releases on the label including groups like Keith Hutchinson's Focus and Enoch's discovery Lena, who went on to have huge success under the name Ebony a few years later.
In 1984, when an artist didn't show up for a booked session they decided to make use of the studio time and began working on a demo. At the time Anthony and Enoch had been playing for a year at a new club called Gamsho, located on a farm on the outskirts of Kliptown Soweto. Along with Blackie Sibisi, Sepate Mokoena and Elijah "chippa" Khumalo they made up the resident house band. Due to cultural boycotts and American artists refusing to perform in the country, locals took it upon themselves to fill the market with the American sound the crowds demanded. The demo they recorded at Blue Tree Studios was going to be their product they could use to promote their brand of the American sound. They then took the demo to Universal Studios where their friend and trusted engineer Jan "fast fingers" Smit was working. It would be here that they would polish their demo into something they could take to their bosses and have pressed. Equipped with a DX 7, Linn Drum and some Juno synthesizers they were on their way. Jan lived up to his name and programmed the drums, it is rumoured he could program in almost real time, a skill that translated to the local arcade where he held high scores on many machines. Enoch would be singing and playing guitar while Anthony would do all the Bass and Keyboards. The result was 4 funky party anthems with synth work like no other recording at the time. Their take on what they believed the crowd would want to hear at the beloved club they called home.
From start to finish the 4 tracks portray what would have been a standard night at the Gamshu. Although the club would open earlier and the standard hours of most clubs was 6 to 6 , the band would start playing at 10pm. With their standard set time and Anthony and Enoch unique view on what a Disco should be, they chose the motto Ten to Ten as the album title because those were the hours when they were the stars and Disco ruled the dance floor. To get to the club was a bit difficult, you needed to drive along an empty road where thieves waited for any patrons trying their luck walking after dark. Since there was no transport during the night, the safest way to get home was to wait till the next morning to walk home. Even though in the summer months of Johannesburg light begins to peek in just after 4am, crowds refused to leave and stayed enjoying good music and company until 10am. The lead off track "Let's Freak Together" has powerful lyrics encouraging people to let go of their worries, put aside any differences and let the music bring everyone to freak and dance together. The whole album is about the joy we can all feel when we share the same moments and how music can bring people together in a unique way, a philosophy shared with the original nightclubs of 70s New York. This approach to music is where the name Skyf Connection comes from, translating from slang to mean the connection we create through sharing, in this case Music and good times.
Skyf Connection would go on to play at Gamsho till the club's closure in 1986. In those years their popularity lead to being booked for private events like weddings and birthday parties, as well as gigs in some other venues like Mofolo Hall. They would share the stage with many artists through the years learning artist's songs and providing support as a backing band. After the club closed Anthony would go on to join the house band at The Pelican, another famous club located in Orlando East, as well as dabbling with songwriting for artists like Phumi Maduna and helping Enoch on many projects through the years. Enoch would ditch live music altogether and immerse himself in studio work, starting full time as a house producer and A&R for the recently formed Ream Music. He would go on to produce hit albums for pop artists like Percy Kay and Makwerhu but made his mark discovering countless artists that would become stars in the traditional market. They would remain friends until Anthony's passing in 2016 and although Anthony is no longer with us his spirit lives in the grooves he left on this one of a kind record. His wife Vinolia will be accepting his portion of the profits on his behalf.
Add to cart