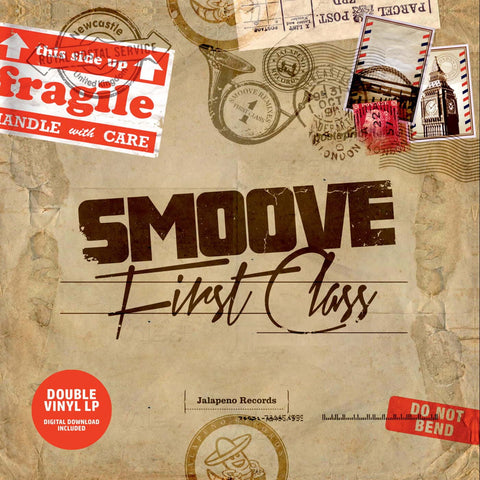 RELEASE
Smoove - First Class
LABEL:
Jalapeno Records
PRE-ORDER ITEM
Expected in stock between 17th - 31st March
PLEASE ORDER PRE-ORDER ITEMS SEPARATELY FROM IN STOCK ITEMS IF YOU WOULD LIKE TO AVOID DELAYS TO YOUR ORDER/S
Smoove is the archetypal B-Boy made good. Despite his huge international success with Smoove & Turrell and his ability to craft jazz, soul, latin, hip hop and funk into world beating dancefloor killers – he can still be found every weekend he's not playing live jumping on a plane or a train to go and DJ in Germany, Italy, Ibiza or just down to Manchester, Bristol or London wherever his diary tells him he has to go..
Wherever it is, his incredible skills behind the decks mean that he gets asked back and the breadth of the music seamlessly joined by his turntablist skills jumps from disco to funk, jazz to soul, hip hop to house and back again.
The endless flights, trains and hotel rooms are dead time to some DJ's but Smoove is always creating new tunes for his set on the fly and working his different influences into the remixes and productions he is currently on. There were at least 40 remixes that could have been included on this album but in the end he chose the ones that worked best together and made the album flow like one of his legendary DJ sets.
Add to cart