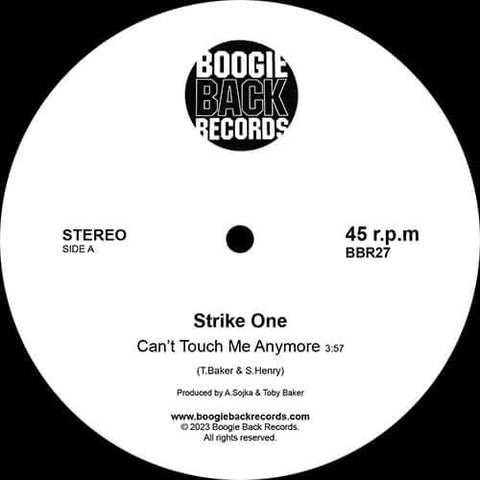 RELEASE
Strike One - Can't Touch Me Anymore
LABEL:
Boogie Back Records
PRE-ORDER ITEM
Expected in stock between 14th - 28th July
PLEASE ORDER PRE-ORDER ITEMS SEPARATELY FROM IN STOCK ITEMS IF YOU WOULD LIKE TO AVOID DELAYS TO YOUR ORDER/S
Brit funk brilliance from 1980's one hit wonder Strike One, lovingly reissued on Boogie Back Records with a brand-new production from the outfit on the B side.
 
A shining example of the sheer quality of productions coming out of the UK in the early '80s and a prime proponent of what made Brit funk so gloriously great, 'Can't Touch Me Anymore' is that infectious feel-good gold that every collection needs. Written by Boogie Back Records Toby Baker back in '83, fast forward 40 years Baker and Strike One return to the studio for 'Chicago Sunrise' and it's like they never left. Another sure fire, instrumental Brit funk winner with all the dazzle of the glory days.
Add to cart