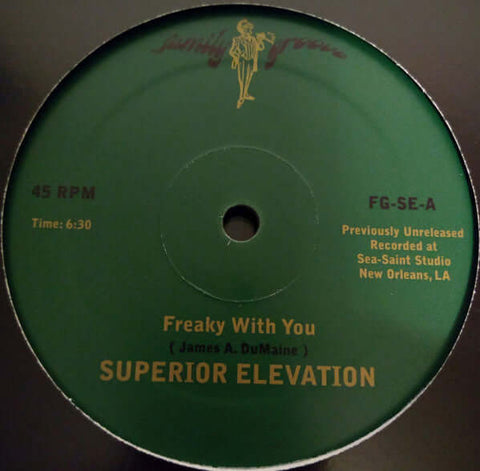 RELEASE
Superior Elevation - Freaky With You
LABEL:
Family Groove Records
Media Condition: Mint
Sleeve Condition: Mint
Previously Unreleased material recorded in 1979 at Allen Toussaint's legendary Sea-Saint Recording Studio in New Orleans, LA.
Freaky With You is a Six-and-a-half minute Psychedelic Disco Funk excursion taking you on a wild mojo trip with a four on the floor backbeat and extended conga breakdown peppered with some New Orleans Voodoo that reaches for the Bondye Celestial Heavens.
On the B-Side, Welcome To My World is a Modern Soul Steppers masterpiece. A version was also recorded by Joe Chopper for the Lanor Records label.
James Dumaine remembers the studio session well. After having oral surgery that morning, a grotesque, theatre of the absurd incident followed causing him to bleed onto the microphone as he was singing. That combined with the miscommunication with the audio engineer to watch the volume levels on his new synthesizer: The Engineer decided not to take heed to the warning… Half way into the recording all the band could see from the other side of the glass were heads frantically rushing to the mixing board. The synthesizer levels had caused the monitors in the control room to blow up. Superior Elevation wasn't invited back to record at Sea-Saint. 40 years later, with all that chaos, hoodoo and gris-gris enveloped into the magnetic tape, it magically survived the catastrophic 2005 floods during Hurricane Katrina and ended up in the hands of Mike Nishita along with many other Reel to Reel Tapes of Allen Toussaints' masters of The Meters albums he produced and recorded. It's available now, preserved with Family Groove Records.
Add to cart