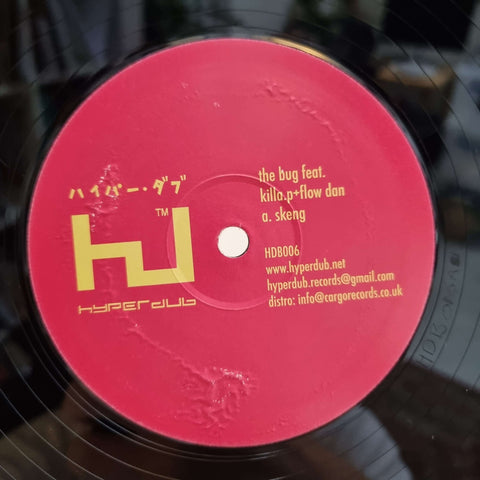 RELEASE
The Bug Feat. Killa.P + Flow Dan - Skeng
LABEL:
Hyperdub
Media Condition: Very Good +
Sleeve Condition: Generic
London Zoo, the critically acclaimed third album by The Bug, was named after "the cage" he lived and worked in at the time. "I couldn't afford a flat and a studio," he told me over the phone from Brussels. "It was in Bethnal Green on the top floor of a shithole building that was used as an alley for shooting up by heroin addicts, who would score just round the corner. It was infested with roaches and rats, a charming place."
Sometime in the summer of 2006, the MCs Flowdan and Killa P, both members of the legendary grime crew Roll Deep, turned up in Bethnal Green for a late-night session. As they entered the studio, The Bug, who had never met Killa P before, was playing the "Skeng" instrumental. He shut it off and the three of them got to work on a different track called "Ganja." When they were done, Killa P, who was feeling in the zone, asked The Bug to fire up some other beats. One of them was "Skeng." "I was like, 'What the fuck? Yo, headphones,'" Killa P said. "You get me? Flowdan's like, 'Nah my friend's downstairs, I gotta go.' I'm like, 'Bruv you can't go bruv, are you an idiot?' The Bug's just put the beat on, the beat's sick, I've got the headphones in my hand. 'We gotta do this tune right now.'" "Without Killa being there it wouldn't have happened," The Bug said. Killa P and Flowdan work in different ways: Killa P thrives off the energy of the moment, while Flowdan is more regimented—he likes to make a plan and stick to it. That night, "Skeng" wasn't part of the plan, plus it was late and Flowdan was tired. But Killa P and The Bug weren't having it, and they eventually persuaded him to stay. Killa P grabbed the mic first: "Phenomenomenon one, Phenomenomenon one, Phenomenomenon one..." "It was a ting that [the Jamaican dancehall artist] Ninjaman used to always say,"
Killa P explained. "So as a lickle yout growing up, this was our style of lyrics from them. 'Phenomenonon one, no boy can't diss me mi name ah Ninja.' You gotta remember we grew up with jungle and everything else. There were jungle MCs that said 'phenomenonon one.' It's just a style." Killa P's opening verse, freestyled in a heavy Jamaican patois, was fired off at machine-gun pace. Flowdan, who also usually raps fast, did something similar for the chorus, but it wasn't working. Someone—Flowdan and The Bug each claim it was their idea—suggested trying the vocal at half-speed. Both agree on one thing: Flowdan had never done this before. "I was definitely the one that said to him, 'do a half-speed vocal on it,'" The Bug said. "Put it down to single words so it would punch through more. Give space to your voice and let your voice resonate, because he's got an incredible tone anyway. Also to give the rhythm more space to achieve impact. We were all laughing our nuts off about the tune and the lyrics because they're so fucking intense. The blackest humour possible. Gutter-level intensity." "Very sparse and very sporadic," Flowdan said. "Not even sporadic but random because I'm normally more fluent. And that's because 1) the energy and the motivation wasn't there because it was the end of the session and 2) me and Skepta were talking about changing things up and slowing down the style to be more understood for an international audience." The chemistry in the studio that night was off the chain and "Skeng" was all but finished in record time.
After adding a few touches to the production, The Bug cut the track to dubplate and gave it to his "foot soldiers": Loefah, who had a studio in the same rundown building, and Hyperdub boss Kode9. It was a hit pretty much instantly. "I can distinctly remember the first time it was ever played out, which was by Loefah at FWD>>," The Bug said. "And everyone was going mad—me too, I was jumping up and down like a nutter. It just sounded ridiculous on the Plastic People system." "Skeng" is one of the first fusions of dubstep, grime and dancehall, marrying the intensity of grime and dancehall vocals with dubstep's half-step rhythms and violent bass. It sounds so original because The Bug was a musical outsider with a deep love for all three genres and allegiances to none. This might also explain why it's permeated so many scenes and enjoyed such a long shelf life. "For me, 'Skeng' was absolutely manufactured to destroy rigs and audiences," The Bug said. "I wanted to make a new form of dub. That's what that sort of rhythm came out of. Somehow in my mind, the axis of 'Skeng' was formulated from wanting to have the impact of the heaviest dub on the heaviest soundsystem but with the analogue resonance of Dillinja's early basslines for Metalheadz." The success of "Skeng" did a lot for The Bug and Flowdan. They still tour together, performing it, and other collaborations, live at clubs and festivals all over the world. Killa P wasn't so lucky.
"Skeng" was released on Hyperdub in September 2007, but it wasn't until several years later that he even realised the track was a smash. One day, during a random studio session in East London, Skepta mentioned that Flowdan had been performing his verses. "Just finding out that way, for me, that's what made me kind of angry, because it was something to celebrate in my eyes," Killa P said. "I had not achieved any success like that on my own with a song that I know I created from scratch. All of the light had gone to Flowdan. So I'm thinking, 'hold on, that's actually not fair.'" "A lot of ignorant white dubstep fans couldn't tell that there were two MCs on that track, even though it was credited and obvious in the delivery," The Bug said.
For a while, the mood between the two rappers, who are cousins, was "a bit edgy," according to Flowdan. But that was a long time ago. Plus, in 2016, Killa P released "Leng," a rehashing of "Skeng" with new verses and a tweaked beat. It includes the line, "None of them can ever deny the fact that I Killa for rilla created 'Skeng.'" It's been nearly 15 years since that special night in Bethnal Green. Despite the odd bump in the road, all three artists are proud and thankful for the evergreen anthem that, sooner or later, helped define their careers. "No matter how it came about it's still great," Killa P said. "It's a great song. It exists. And a lot of people love it and for that I'm grateful. Because a lot of our work goes unrecognised." "Alongside my Roll Deep contribution, starting Roll Deep, it's one of the really important things that makes Flowdan who he is today," said Flowdan. "I still drop it in virtually every Bug show and if I don't, people scream for it and get pissed off," The Bug said. "It's a beautiful thing that people dig it. It never ceases to humble me that anyone gives a fuck."
Add to cart