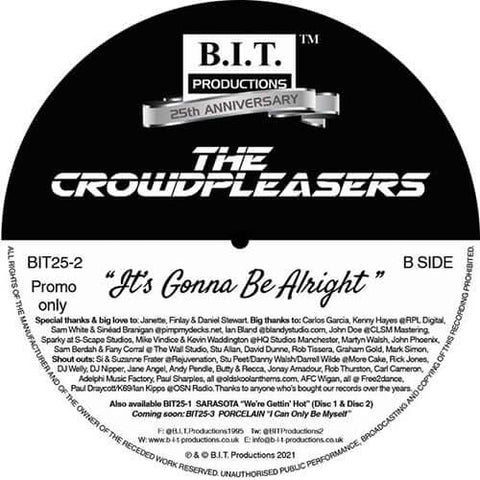 RELEASE
The Crowdpleasers - It's Gonna Be Alright
LABEL:
B.I.T. Productions
3 mixes including The Crowdpleasers 25th Anniversary Mix which are on the uplifting House vibe, the Original 1996 Mix is an Old Skool style piano track, plus The Crowdpleasers vs Lockout Bootleg Mix which is a trance monster with massive synth breaks. Lockout is Kenny Hayes.

B.I.T. Productions was set up in 1995 with the first release being the white label monster, The Crowdpleasers "I Want You To Know" which sampled Quench "Dreams".

Over the next 5 years, the label produced tracks of varying styles: Da Fool "Meet Him At The Blue Oyster Bar" (licenced to ffrr), Quintessential "A Day To Remember", 2 Smashing Blokes "M.F." etc and some of the more popular tracks received DJ support from the likes of Pete Tong, Graham Gold, Stu Allan, Rob Tissera, Colin Tevendale, James Bradley, Steve Lawler, Lisa Pin-Up, Andy Farley, Lisa Lashes etc.

Following on from the 25th Anniversary release of SARASOTA "We're Gettin' Hot", the next to receive the Anniversary treatment is another Northwest piano anthem, The Crowdpleasers "It's Gonna Be Alright" which was first released in 1996 on single track white label. Now with Remixes by Miguel Sanchez & Carlos Garcia, Pianohead, Discode & 8th Day plus The Crowdpleasers vs Lockout Bootleg Mix, The Crowdpleasers Anniversary Mix as well as the Original 1996 Mix, spread across two 12"s.

Add to cart