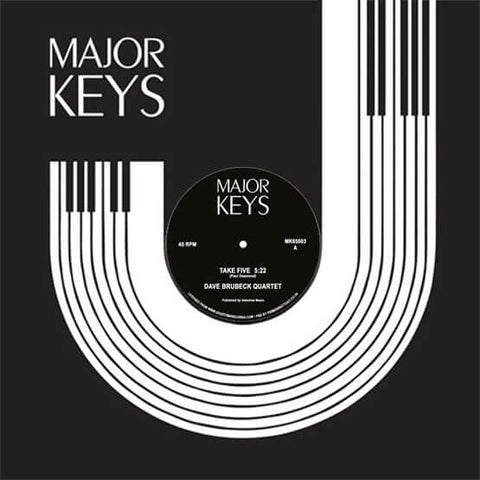 RELEASE
Dave Brubeck Quartet - Take Five
LABEL:
Major Keys
A certified maestro of his time, king of Cool Jazz with a penchant for unusual time signatures, Dave Brubeck is as prolific as they come. For their third release, Major Keys lovingly remaster and reissue three of his key pieces as The Dave Brubeck Quartet including the instantly recognisable 'Take Five' on 180g vinyl in a Major Keys sleeve.
 
On the A side one of the most famous jazz pieces of all time. Released in 1959 as part of the Quartet's Time Out LP, which become the first jazz album to sell more than a million copies with the 'Take Five' single also taking that that coveted spot whilst going on to become the best-selling jazz single of all time. Accolades aside, it's an intricate, absorbing and elating piece of jazz history, with one of the most recognisable melodies ever to be written. Timeless genius written by the quartet's saxophonist Paul Desmond and performed by Dave Brubeck, Paul, Joe Morello and Eugene Wright, reissued for a new generation of listeners.
 
The B side sees ever more experimentation from the quartet, with the time signatures Dave heard on the streets of Istanbul providing the inspiration that gave birth to the lead track from Time Out - 'Blue Rondo a la Turk'. As cool and complex as they get, stirring up those meters like a slick Manhattan. Rounding off the package, American jazz singer Carmen McRae's 1962 vocal version of 'Take Five' gives an extra dose of sophistication to proceedings. All in all, a must have for any discerning music lover.
Add to cart