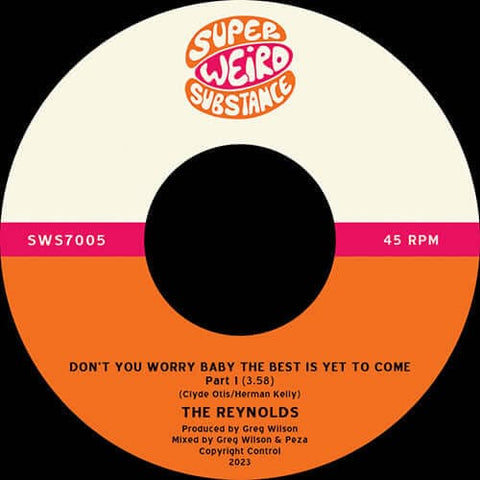 RELEASE
The Reynolds - Don't You Worry Baby the Best Is Yet To Come
LABEL:
Super Weird Substance
First released back in 2014 on Greg Wilson's Super Weird Substance label, as a limited 12'' vinyl run of 500, 'Don't You Worry Baby The Best Is Yet to Come', has subsequently become a much sought after record with modern soul enthusiasts, copies currently selling at well over £100.
 
It was soul legend, Colin Curtis, who suggested, at last year's We Out Here festival, that a 7'' pressing may be timely. Colin's connection with the track goes back to hallowed Northern soul club, the Blackpool Mecca, in '70s, where the Bessie Banks original, never issued in the UK, was a cult-classic.
 
The Reynolds are Merseyside twins, Carmel and Katherine Reynolds, who worked with Greg across various projects on the label. Katherine takes the lead on this track, and handles it like a veteran, her vocal elegantly gliding the groove – Greg working in collaboration with Wolverhampton DJ/musician Peza, who programmed and co-mixed the track.
Add to cart