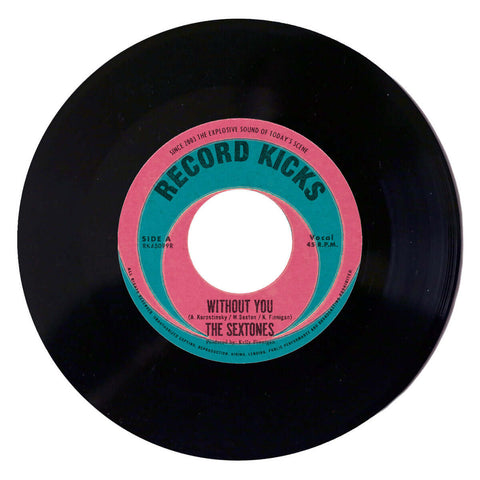 RELEASE
The Sextones - Without You
LABEL:
Record Kicks
Record Kicks presents a new 45 vinyl release from US soul combo The Sextones, featuring singles from their upcoming new album produced by Monophonics frontman Kelly Finnigan.
Following up on the popularity of their last 45, The Sextones return with a new 7" release, featuring singles from the band's highly-anticipated LP, Love Can't Be Borrowed. The new 45 "Without You" / "Love Can't Be Borrowed" is limited to 500 copies worldwide and it will hit the streets on June 16th, while the album, produced by Monophonics frontman Kelly Finnigan, will be available on September 29th on LP, CD and digital format via Milan-based label Record Kicks.
"Without You", on side A of the new 45, is an uptempo burner, showcasing playful call-and-response vocals, xylophone and horns over an unapologetically locked-in rhythm section, while on the flip side we find the album's namesake "Love Can't Be Borrowed", which brings the mid-tempo soul magic and speaks to the moral expectations of a rocky relationship.
Friends since childhood, The Sextones are Mark Sexton (guitar, vocals), Alexander Korostinsky (bass), Daniel Weiss (drums), and Christopher Sexton (piano). Having known each other for so long, their musical chemistry is effortless and forms the foundation of the band's longevity and creative workflow. Despite their bond, each member has been able to channel their creativity into other acclaimed groups—Alexander and Mark with their cinematic-soul project Whatitdo Archive Group, whose acclaimed debut LP The Black Stone Affair was released on Record Kicks in 2021, and Daniel with the soul/jazz group Delvon Lamarr Organ Trio (Colemine Records). Flexing their creative muscle individually has only strengthened The Sextones' collective songwriting ability and heralds their formidable return to the spotlight. With their recent signing to Record Kicks, the self-made heroes of soul begin a new chapter in their sonic journey, ready to scale new heights and plumb deep emotional depths in service of the genre they love.
Add to cart