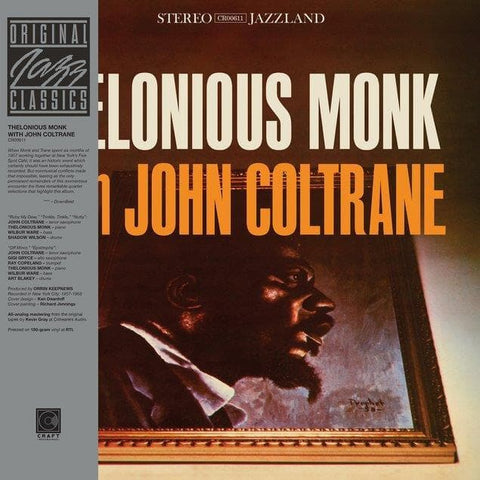 RELEASE
Thelonious Monk & John Coltrane - Thelonious Monk With John Coltrane
LABEL:
Craft Recordings
PRE-ORDER ITEM
Expected in stock between 26th May - 9th June
PLEASE ORDER PRE-ORDER ITEMS SEPARATELY FROM IN STOCK ITEMS IF YOU WOULD LIKE TO AVOID DELAYS TO YOUR ORDER/S
Regarded as one of the greatest jazz collaborations of all time, this new edition of "Thelonious Monk with John Coltrane" is release as part of the newly relaunched Original Jazz Classics Series. Pressed on 180-gram vinyl at RTI with all-analog mastering from the original tapes by Kevin Gray at Cohearent Audio it is presented in a Tip-On Jacket with obi. In addition to Monk and Coltrane the album also features the talents of Art Blakey (drums), Wilbur Ware (bass), Gigi Gryce (alto sax) and more.
Tracklist
Side A1. Ruby, My Dear A2. Trinkle, Tinkle A3. Off Minor
Side B1. Nutty B2. Epistrophy B3. Functional
Add to cart