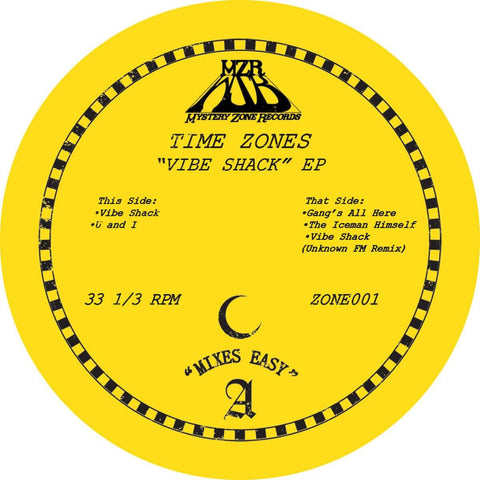 RELEASE
Time Zones - Vibe Shack
LABEL:
Mystery Zone Records
Media Condition: Near Mint
Sleeve Condition: Generic
"Music is good for the mind / ain't nothing healthier than having a good time"
Time Zones is the dance music project of Dan Gentile and Jack Murphy. The two began making music together in 2014 while living in Austin, Texas. Their work is rooted in the appreciation of soulful house music and dollar bin disco singles.
Dan is a DJ with fifteen years experience performing as a member of Austin-based DJ crew Flying Turns. He writes about music for outlets like VICE and Wax Poetics. Jack's musical background is playing bass and piano in a variety of contexts: a jazz ensemble, small groups, free jazz scenarios, funk jam sessions, and a psych rock band.
By day he is a designer and writer. The Vibe Shack EP wears its influences on its chipboard, disco single sleeve. Crackling samples loop over an assembly of live (read: non-quantized) tracked instruments, including a Korg PolySix, Roland JX-3P, modular synthesizer, and a broken x0xb0x, giving each cut that lively, human touch. The record features a punchy remix of the title track produced by label head Hiatt Becker under the alias Unknown FM. The tunes have been mastered hot by Benoit D at Perception Mastering for maximum dance floor impact.
Add to cart