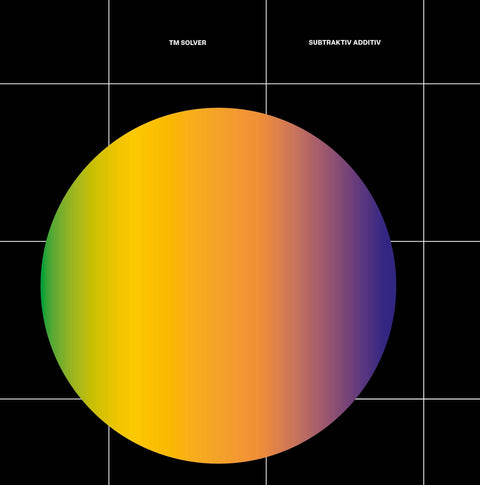 RELEASE
TM Solver - Subtraktiv
LABEL:
R.I.O.
PRE-ORDER ITEM
Expected in stock between 28th April - 12th May
PLEASE ORDER PRE-ORDER ITEMS SEPARATELY FROM IN STOCK ITEMS IF YOU WOULD LIKE TO AVOID DELAYS TO YOUR ORDER/S
I was dancing when I was out, I was dancing when I was in. Is it strange to dance so late? Is it strange to dance so soon? Cosmic dancers always ball. Dancing with themselves, dancing space away. Right into the smallest hole a human brain can create: the inner cosmos, a psychedelic region, where time gets space and space turns to haze. 

Berlin based producer TM Solver is such a kind of cosmic dancer. He has danced late. And so soon. Since 2008 he released yearly one, sometimes two albums via the German Berlin School dedicated label Syngate and its experimental subdivision Luna. Intensely meandering synthesizer journey music, that is pirouetting on inner universes, genuinely crafted in the tradition of Berlin School and Krautrock. You can catch the unearthly nuances of Can and the spaciously swinging psychedelic corners of Amon Dül, Embryo, Tangerine Dream, or Klaus Schulze. As TM Solver has been a lover of analog synthesizers for almost 30 years, all pulsates on analogue sound orbs under the zigzagging guidance of machines like Moog Prodegy, Korg MS20 and GRP A4, as well as state-of-the-art systems as ASM Hydrasynth and Korg Wavestate. When he got in touch with the Berlin club scene and all its propelling grooves in 2006, a new rhythmic universe joined his vast musical space of sound latitudes. "Tinkering around with sound structures is my thing. Leading the listener into a combination of music and sound spaces." he reveals on his emotive musical art. How affecting it works, is now displayed with four epic compositions for R.i.O., Berlin Wedding's label of novel ways for caved rhythmic patterns. Grooving between 90 to 240 BPM, they offer a vast variety of emotional landscapes, slowing down, rolling up, drifting into genuinely layered tonality magic. Headspace music for vigilant wanderers. Utterly psychedelic and yet so clear. His R.i.O. debut "Subtraktiv Additiv" comes with five additional remixes, fashioned by R.i.O. conspirator Benedikt Frey, Amsterdam based DJ and producer Mayo, "Die Orakel" magician O-Wells from Frankfurt, Siamese Twin Records co-runner Sunju Hargun, and the versatile club and beyond production duo Red Axes. They all respect TM Solver's analogue zones and pitch them into the 115 to 130 BPM districts, while transcending his absorbing synth compositions into the world of nervous acid-laden ambient, slow-mo techno, industrial bass, post-trance, and all that hallucinogenic echo house. Nine subtle energy vibrations, epic and full of countless facets, shaped to turn on, tune in, and drop out.
Add to cart