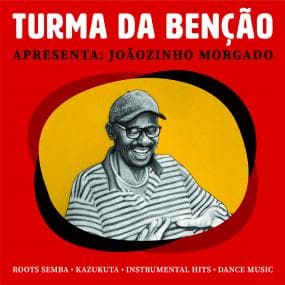 RELEASE
Turma De Bencao - Apresenta: Jaozinho Morgado
LABEL:
Keep On Pushin Records
To celebrate 45 years of Angolan independance, we present to you "Morgadinho", a 45 single of the Turma da Bênção project by Conjunto Angola 70 & Paulo Flores.
Side A | Morgadinho by Joãozinho Morgado
At Gravisom studio (Lisbon), Joãozinho Morgado orchestrated a groovy jam session, with touches of Semba, Kazukuta, Kilapanga, Rumba and Merengue, resulting in the Morgadinho theme. Coordinated by Armando Gobliss, Joãozinho was accompanied by his companions Botto Trindade (Solo Guitar), Pirika Duia (Viola Ritmo), Mayo Bass (Viola Bass) and Galiano Neto (Percussion).
Side B | Sou Eu João Morgado by Joãzinho Morgado & Batida
To spice up the master's jam session with a light electronic touch, we invited Pedro Coquenão - the "AngoLuso" also known as Batida - to join the jam session.
Almost ten years ago, Batida had already stolen our hearts with the track "Bazuka" and did it again two years later with the track "Pobre e Rico". On both of those musical productions, he sampled with the blessings of legendary Angolan musicians Carlos Lamartine (Bassoka) and Matadidi Mário (Café). Batida's collaboration with master Joãozinho Morgado resulted in "Sou Eu João Morgado", which we can label as Semba House.
Add to cart