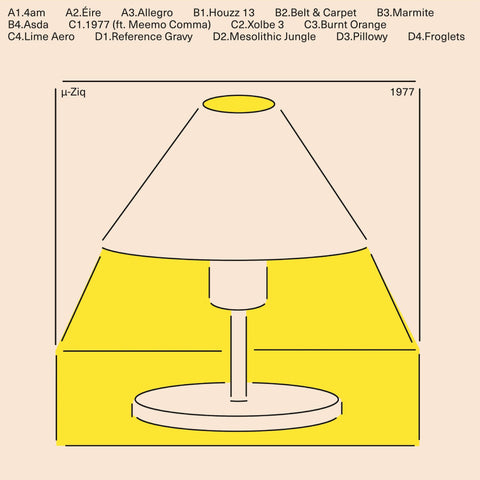 RELEASE
u-Ziq - 1977
LABEL:
Balmat
When we established Balmat in 2021, neither of us could have imagined that within two years, we'd be putting out an album by one of our musical heroes: Mike Paradinas, aka µ-Ziq. The British producer has been an inspiration to label co-founders Albert Salinas and Philip Sherburne since the 1990s. In fact, his album-length remix project The Auteurs Vs µ-Ziq was one of the very first pieces of electronic music that Philip bought, way back in 1994. To have the opportunity to release his music now feels like a real full-circle moment.

Paradinas, of course, needs no introduction. Under a slew of aliases, chief among them µ-Ziq, the British artist revolutionized leftfield electronic music in the 1990s—coincidentally, this year marks the 30th anniversary of his debut album, Tango N' Vectif, for his friend and sometime collaborator Aphex Twin's Rephlex label—and his label Planet Mu has built up a formidable catalog of visionary, forwardlooking records, mapping virtually every corner of the electronic spectrum. With 1977, he turns the clock backward in a sense, and not just with the album's title: Rooted in classic ambient and electronic sounds, these 15 tracks evoke the anything-goes spirit of the early '90s, before the tools and tropes had calcified into cut-and-dried styles.

There's no shortage of familiar sounds on 1977. There are echoes of raves and chillout rooms and transmissions from the fringes of techno; there are detuned synths and glistening reverb tails and, above all, gauzy vox pads, the eerie glue that holds it all together. The title, he says, is meant to invoke a general sense of nostalgia, bookmarking a year in his boyhood when he became more selfaware. More than anything, 1977 sounds like µ-Ziq distilled: Stripped of his signature breakbeats and customary chaos, Paradinas' first-ever strictly (well, mostly) ambient album presents the essence of his music in a whole new light.

Along the way Paradinas touches on dark-ambient drones ("Marmite"), horror-film themes ("Belt & Carpet"), jungle breaks ("Mesolithic Jungle"), and even house music ("Houzz 13"), which marks the first bona fide dance-floor moment on Balmat to date). Yet the album never—to our ears, anyway— feels expressly retro. Rather, Paradinas plucks timeless sounds out of the ether and gives them a gentle tap, spinning them into unexpected new orbits. At times, 1977 feels like an experience of extended déjà vu: When we first listened to it, we had the sense that we already knew this music. It was as though we had heard it years ago, perhaps on a battered cassette tape lent to us by a friend, and been searching for it ever since. We hope you feel the same.
Add to cart