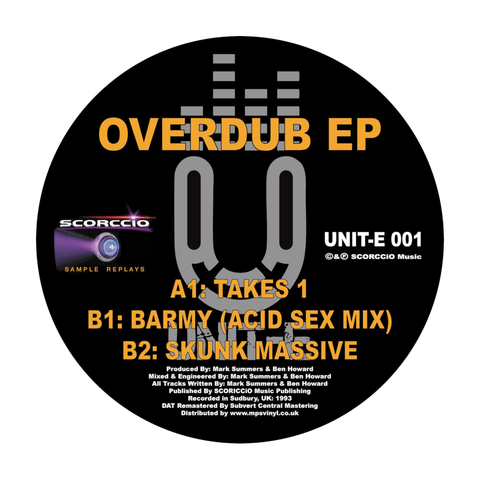 RELEASE
Unit E - 'Overdub' Vinyl
LABEL:
Scorccio Music
The Overdub E.P. was first conceived by DJ's Mark Summers & Ben Howard in Sudbury, Suffolk, in 1993. Hardcore and Jungle was huge in the UK at that time, with Summers & Howard playing the genres out at their 'Paranoia' and 'The Ark' nights, at venues in Sudbury and Southend.
Over the course of 2 weeks they met at Mark's home basement studio, digging through their vinyl crates to find all kinds of inspirational material for their tracks. Both DJ's had eclectic tastes in music, and so the basis for 'The Overdub E.P.' was born; with some interesting touches added along the way. Mark had sampled an entire Korg M1 Piano inside a Chelmsford music store onto DAT, and later used that same piano to create the huge hook he played on 'Takes 1'. While Ben had sourced an obscure Reggae break used as the basis for 'Skunk Massive'. Later when DJing at 'The Ark',with Ben Howard, the final master mixes of 'The Overdub E.P.' were heard by DJ Rush Puppy - a nephew of one of the owners of Contagious Records, based in Upminster, Essex. The label had become prominent in 1992 for releasing some of the finest Hardcore/Jungle, and within a few days of hearing 'The Overdub E.P.' they were all set to make it their 11th release.
However, the legendary story of what we now know as the fate of this record began to unfold.... Shortly after the first vinyl run had been pressed, Contagious Records went bankrupt; meaning the vinyl pressing plant could not be paid - which lead to the plant destroying the complete run, minus a very limited amount of copies that were sneaked out prior to the destruction of all the remaining pressings. This extremely rare E.P. has since become one of the most highly treasured vinyl items, currently fetching up to £350 per copy on Discogs.com.
Add to cart