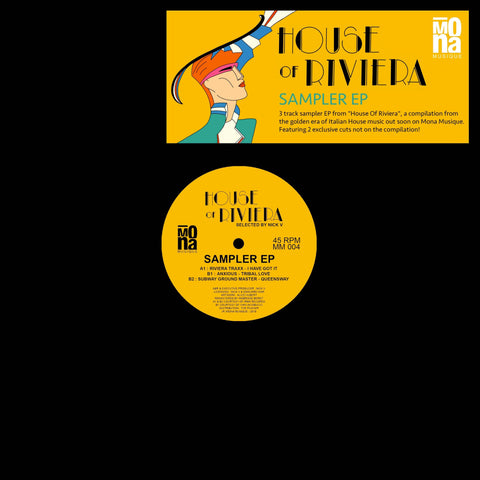 RELEASE
Various - House Of Riviera Sampler [Warehouse Find]
LABEL:
Mona Musique
WAREHOUSE FIND
Ahead of its forthcoming compilation House Of Riviera, Mona Musique releases a sampler EP that contains three tracks selected by label manager Nick V, taken from the golden age of Italian House Music, two of which are exclusive to the EP.
Side A is " I Have Got It" by Ricky Montanari and Davide Ruberto under the alias Riviera Traxx, a moniker shared with various other Riviera producers. Released in 1997, this is the only track that is out of the 1991/1993 time scale that the compilation focuses on, standing alone thanks to its tough hypnotic drum beat and diva vocal stabs that are very reminiscent of the Junior Vasquez NY Sound Factory era. This was initially featured on Riviera Traxx 4 in 1997, the fourth and final release of the cult "Riviera Traxx" series on legendary Italian label Irma records.
On the B side are two cuts that are typical of the deep and emotional vibe of classic Riviera House productions of the early 90s. Firstly Ivan Iacobucci, Fabrizio Cini and Nicola Dragani deliver " Tribal Love" under the name of Anxious. Originally released in 1992 this was the B side cut of the Saxample EP, the first release of Hole records a label run by Ivan Iacobucci that enjoyed over 30 releases over the 10 following years. Subway Ground Master complete the release with the superb " Queensway" taken from their only ever release in 1992 on Calypso, a sub-label of Irma records.
Add to cart