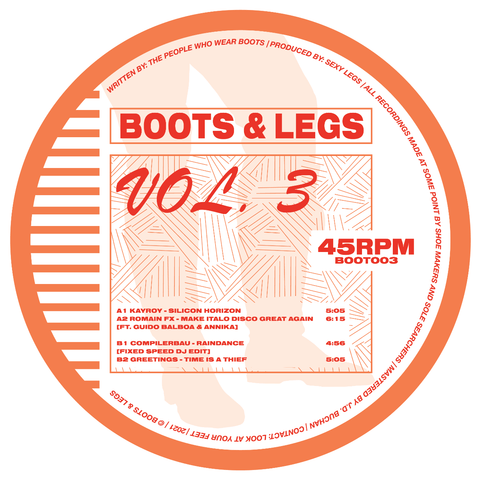 RELEASE
Various Artists - Boots & Legs Vol.3 EP
LABEL:
Boots & Legs
It's the start of a new era for the cobbers, as they present their first compilation of 100% original music. Cementing the label's New Age Italo manifesto, these four tracks straddle neon-tinted nostalgia and sleek futurism. Sounds from yesteryear, for the dancefloors of tomorrow.
This dichotomy is clear on opener 'Silicon Horizon', a propulsive banger from Kayroy which draws inspiration from the threshold of the digital age, evoking the rush of a nighttime race through city streets on a Tron bike.
The anthemic 'Make Italo Disco Great Again' gives tune to the phrase brandished by DJs such as Skatebård. Romain FX faithfully celebrates the ongoing Italo legacy with appropriately tuneful synths and cheesy lyrics, courtesy of vocalists Guido Balboa & Annika.
On the flip, German synth-wave fanatic Compilerbau delivers an atmospheric masterclass with 'Raindance'. Here, intricate percussion and retrofuturist synth-scapes create an adrenaline rush of a track which could easily be the theme song from a lost 80's action movie.
GREETINGS completes the release with 'Time Is A Thief', a bombastic trip to the Paradise Garage complete with piano stabs, a throbbing bassline and enough cowbell to cure any fever.
Another limited vinyl-only release, get yours quick before these boots have all danced off the shelves.
Vinyl, 12", EP
Add to cart