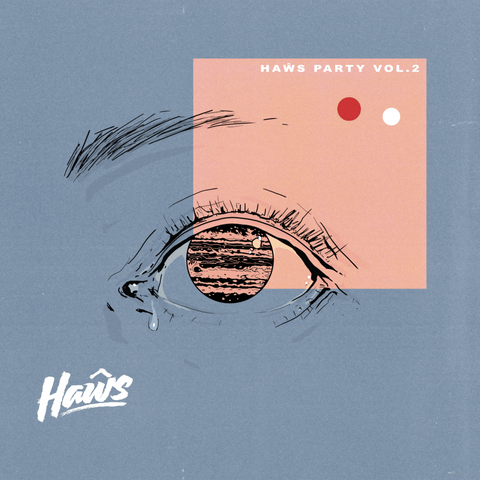 RELEASE
Various - Haws Party Vol. 2 [Warehouse Find]
LABEL:
Haŵs
WAREHOUSE FIND
Haŵs Party Vol. 2 is a record of soulful, introspective tracks, as though you've suddenly become alone on the dance-floor and you turn inwards to explore. Whilst Haŵs Party Vol. 1 took an interstellar road-trip into space, the sophomore release takes a more drawn-out, lengthy cruise into the internalised, cerebral soundscapes of dance music. Wading through the borders between electro, breaks, acid and house, the second instalment from the Cardiff-based label and event promoters travels through uncharted regions of the sprawling atlas of music via another catalogue of exceptional names.
Jad & The's honey-eyed electro opener 'Digital Daintree' is as groove-inducing as it is impassioned – a compact knit of synths, pads and rainforest samples that has no problem in stirring the creative hemisphere of the mind. The glossy interweave is torn apart swiftly, however, by the subsequent track; Dan Only's 'Pointless Melody' is far from purposeless, but impishly bolts between weighty breaks and a greedy acidity that is tempered down by the dainty melody peering through the crevices. The final track on the A-side, 'Hometurf', comes from Aleksandir, who projects his lightheaded, wistful sound into warm breakbeats and a soaring repository of arpeggios that'll have you ceaselessly yearning for some forgotten memory that you assumed had been lost forever.
Harry Griffiths' 'Llyn' ushers away the breaks and replaces them with sun-dappled arrangements of chords and incandescent melodies that flutter like the hypnagogic visions that occur just before you dream. Carlo's 'White Lies' takes the groove deeper than the fissures of the brain. Deliciously raw, balmy and with a frisky bassline, it's a deep house track that gets back to the pure state of jamming through a wash of live samples from his collaborator, Nikoss. Does the past or future exist, or are we in the perpetual now? The existential rumination is carried gently back to reality with Sandboards rounding up proceedings. A placid coaxing out of the six-track reverie, 'Japan Pt. 2' scoops you up in nostalgic bells, pacifying drums and purring basslines until you're ready to wake up.
It's an internal excursion for all. Close your eyes, let the motions of your mind plunge deep into your soul, and have your body do the talking.
Add to cart